The life of Venerable Sek Fatt Kuan: compassion in action
The life of Venerable Sek Fatt Kuan: compassion in action
The life of Venerable Sek Fatt Kuan: compassion in action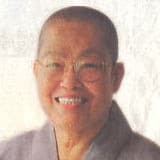 An elderly nun with a beautiful smile, who looked years younger than she was, Ven. Sek Fatt Kuan was an inspiration to all who knew her. She passed away in Singapore the morning of August 26, 2002. Part of the following is from an interview that Venerable Thubten Chodron had with her in 1988.
"I had it in mind for a long time to build an old folks' home," said Ven. Fatt Kuan when I asked her about how Tai Pei Old Peoples' Home in Singapore began. "I don't know why, but I had a strong feeling to do something for old people, especially those who were poor and had no one to care for them."
With strong determination and much patience, she actualized her wish to help others: Tai Pei Old Peoples' Home now houses nearly 200 old women, who can live in a clean and comfortable environment with proper medical care. Twice a week they receive Buddhist teachings, given by Ven. Fatt Kuan, who also leads them in chanting. The majority of old women are welfare cases recommended by the state; the others are unmarried illiterate domestics who came decades ago from China to work in Singapore. While the home does receive some funds from the government, it is largely supported by funds raised by Ven. Fatt Kuan. Now many businesses and shops contribute food and household items.
Born in Canton, China, Ven. Fatt Kuan later came to Singapore. In l938, her mother bought land there and began a Taoist temple. After her mother passed away, Ven. Fatt Kuan was ordained as a Buddhist nun, and in 1965, she rebuilt the temple and converted it into a Buddhist temple, Tai Pei Yuen. Since her mother's time, many old women had been living in the temple. Soon, there were more than 70 of them and space was tight, so in l975, Ven. Fatt Kuan purchased a plot next to the temple. It took her over four years to convince the squatters there to accept the compensation offered to them and vacate the land. In l980 construction was begun, and Tai Pei Old Folks' Home was completed three years later. The initial years were very difficult, as funds were scarce, but by building a columbarium and doing funeral services, she raised money. "Whenever I accept offerings, I see myself as the head of all the beggars," she humbly said.
"Some people look at Buddhism as a passive religion," she continued. "At one Vesak Day celebration, a government minister commented on the lack of Buddhist social services and encouraged us to do more. When I looked around at what other religions were doing to help people, I saw that he was right. At that time, there was no Buddhist old folks' home in the country. My master encouraged me, saying,
If you work for others, even if you fail in your endeavor to help them, it is still beneficial.
"I feel that the Buddhas and bodhisattvas are inspiring and helping me. Although it is sometimes difficult, when the right causes and conditions come together, the problems are solved. Some other temples have followed our example and have established old folks' homes."
Ven. Fatt Kuan was very active in the community as well. She is the Vice-chairperson of the World Fellowship of Buddhists in Singapore, the Vice-chairperson of the Chinese Buddhist Association, and a committee member of Manjushri Secondary School, a Buddhist high school. Ven. Fatt Kuan also adopted at least three young girls who had been living in bad conditions. She raised them and gave them an education.
In 1985 she created Tai Pei Foundation, a charitable organization, which she chaired. With the idea to make Buddhism more accessible to young people, she purchased an old school in a central location and remodeled it to become Tai Pei Buddhist Center, a large religious and cultural center. Here there is a child care center, a library, a peaceful meditation hall, a large auditorium, and classrooms. In 1997 she was awarded the Public Service Star for her social work. She didn't wear it on her robes, much to the disappointment of some of her followers. When asked why not, she replied, "The award is not for me personally, but for everyone who helps the aged and those in need."
Ven. Fatt Kuan supported the work of young Buddhists, helping them not only financially but also by encouraging them. As an example, when I first came to Singapore in 1987, she offered me a room in the old folks' home and arranged for our homeless, fledging Buddhist group to use a temple in Geylang for our gatherings. When I saw her last year, I told her of the challenges of establishing a Buddhist monastery in the USA. She then recounted to me, in her humble way, what she had gone through to establish the temple, the old folks' home, and the Buddhist center. Her patience, foresight, and compassion were amazing. Fortified by the example of her courage, I felt more confident. She has touched so many people in that way. Yet, as a true Buddhist practitioner, she always remained humble, crediting others for successes.
Tai Pei Buddhist Center has been up and running for several years, but its final grand opening ceremony was scheduled for September 8. She had attended a rehearsal for the ceremony the day before. When she wasn't at prayer services the following morning, people went to her room and found her unconscious. She died before the ambulance could reach the hospital.
Read more on Venerable Sek Fatt Kuan.
Venerable Thubten Chodron
Venerable Chodron emphasizes the practical application of Buddha's teachings in our daily lives and is especially skilled at explaining them in ways easily understood and practiced by Westerners. She is well known for her warm, humorous, and lucid teachings. She was ordained as a Buddhist nun in 1977 by Kyabje Ling Rinpoche in Dharamsala, India, and in 1986 she received bhikshuni (full) ordination in Taiwan. Read her full bio.
More on this topic