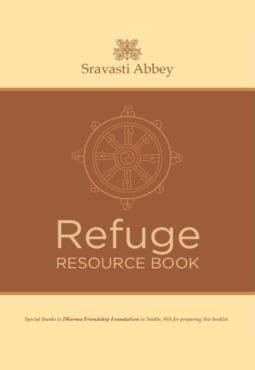 Refuge Resource Book
A collection of articles compiled by Venerable Thubten Chodron as a resource for preparing to take or renew one's refuge and precepts.
Download
© Thubten Chodron. For free distribution; not to be sold (see below for additional use information). Special thanks to Dharma Friendship Foundation for compiling the original booklet.
About the book
When we take refuge, we trust our spiritual development to the guidance of the Buddha, Dharma, and Sangha. Whether it is done formally in a ceremony or in our hearts throughout the day, taking refuge serves always as the foundational step that points our lives in a positive direction and moves us along the path to discovering our inner, unlimited potential for awakening. This booklet was compiled as a resource to prepare for formally taking refuge and any or all of the five lay precepts. It may also serve as a valuable resource for renewing and deepening our refuge over time.
Copyright © 2018 by Sravasti Abbey. For free distribution. All rights reserved. For personal, noncommercial use only. This book may be printed or downloaded electronically, in whole or in part, for personal use by individuals or Buddhist groups. Permission is required to publish and distribute this book on any information storage and retrieval system, such as, but not limited to, a blog or website. To request permission to use this book in ways that are not expressly granted here, please contact communication(dot)sravasti(at)gmail(dot)com.
Articles in this book by authors other than Venerable Thubten Chodron have been used here with their kind permission. For rights and permissions associated with their material, please see the copyright information at the end of their respective article.