Monastic Life
A treasury of information about the joys and challenges of life as a Buddhist monastic.
Monastic Life
Access Vinaya Teachings
If you're a Buddhist monastic who would like to watch Venerable Thubten Chodron's Vinaya teachings, send in a request to livestream [dot] sravasti [at] gmail [dot] com. Please provide information on your level and length of ordination and the name of your preceptor.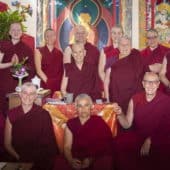 Teachings given to monastics at Istituto Lama Tzong Khapa in Pomaia
View Series
All Posts in Monastic Life