The Committee of Western Bhikshunis
The Committee of Western Bhikshunis
The Committee of Western Bhikshunis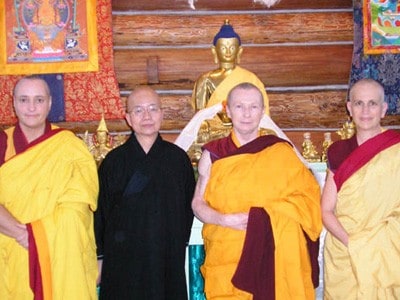 The Committee of Western Bhikshunis was formed in the autumn of 2005, after His Holiness the Dalai Lama told Bhikshuni Jampa Tsedroen that the Western bhikshunis should be more involved in helping to establish the bhikshuni ordination in the Tibetan tradition. The members remained in contact via email and met in March 2006 at Sravasti Abbey in the USA, to research the manner of giving bhikshuni ordination and to prepare a paper which was circulated at the meeting of vinaya experts in Dharamsala in May 2006.
Members
Advisors
Venerable Bhikshuni Heng-ching Shih, Professor of Philosophy at Taiwan National University
(Gelongma ordination 1975 in San Francisco)
Details on her work: Buddhist Digital Library and Museum and Digital Library and Museum of Buddhist Studies
Address: 14-5F, 16, Lane 167, Cheng-kung Road, Nei-hu, Taipei 11457, Taiwan
Ph: 886-2-2790-4120, fax number: 2793-3447
Venerable Bhikshuni Wu-yin, Vinaya Master
Details: Ven. Bhikshuni Wu-yin site
Address 1: Hsiang-kuang Temple, 49-1 Hsi-chou, Nei-pu Tsun, Chu-chi Hsiang, Chia-yi County, TAIWAN 604
Address 2 (different transliteration): 49-1 Xizhou, Nei-pu, Zhu-qi; Jia-Yi Xian Taiwan 604
Email: Ven. Bhikshuni Wu-yin
Venerable Thubten Chodron
Venerable Chodron emphasizes the practical application of Buddha's teachings in our daily lives and is especially skilled at explaining them in ways easily understood and practiced by Westerners. She is well known for her warm, humorous, and lucid teachings. She was ordained as a Buddhist nun in 1977 by Kyabje Ling Rinpoche in Dharamsala, India, and in 1986 she received bhikshuni (full) ordination in Taiwan. Read her full bio.
More on this topic