The first Western bhikshuni in the Tibetan tradition
The first Western bhikshuni in the Tibetan tradition
The first Western bhikshuni in the Tibetan tradition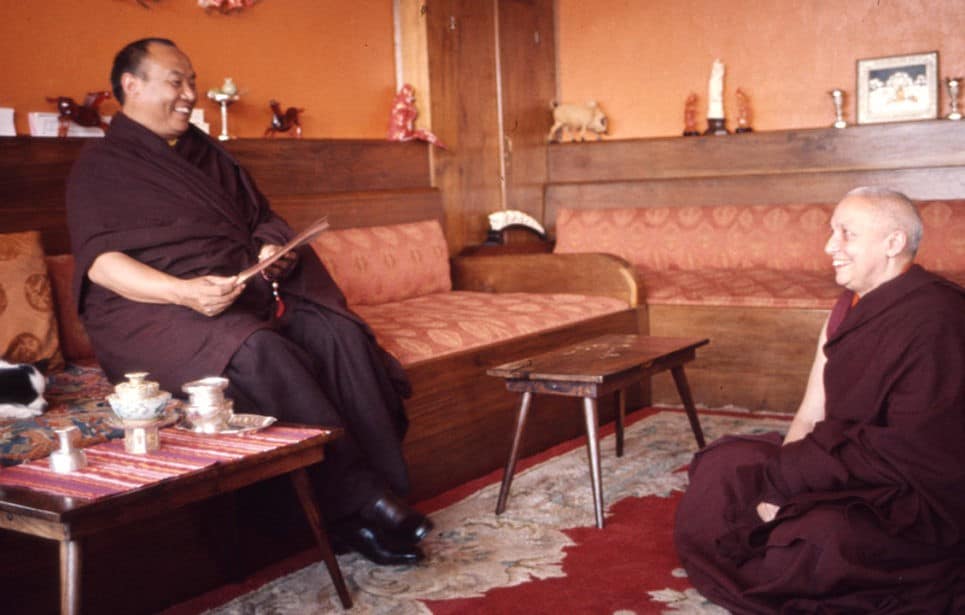 On July 31, 1972, Venerable Kechog Palmo (Freda Bedi, 1911–1977) from the UK became the first Western nun in the Tibetan tradition to receive bhikshuni ordination. She received novice ordination from His Holiness the 16th Karmapa on August 1, 1966, and took bhikshuni ordination in Hong Kong at his encouragement. Learn more about Venerable Kechog Palmo's life in The Revolutionary Life of Freda Bedi: British Feminist, Indian Nationalist, Buddhist Nun by Vicki Mackenzie.
A report on the ceremony by Buddhist magazine Neiming (Inner Clarity) is translated into English below. See ordination photos and the original article on page 35, issue 5 of the magazine published August 8, 1972 here. Read an English translation of an article about Venerable Kechog Palmo in issue 6 here.
---
Opening the Platform for the Buddhist Sangha Association's Second Going-forth and Head-shaving Great Assembly
A total of 17 men and women from here and abroad participated
The Second Head-shaving Dharma Transmission Great Assembly organized by the Hong Kong Buddhist Sangha Association had its grand opening at Hongfa Vihara on Castle Peak Road in Tsuen Wan on July 31 at 11 am sharp. It was presided over in person by the Buddhist Sangha Association president Venerable Xichen, vice-president Venerable Baodeng, and head monastic-cum-preceptor Venerable Minzhi. There were about a thousand participants including the association's directors Maorui, Jinshan, Zhofan, Xulang, Shenghuai, Liaozhi, Rongling, Liaoyi, Renjing, Zhengyin, Huiji, and Yuanhai, elders from various monasteries, laypeople who protect the Dharma, students from the Buddhist College, and so forth. The entire ceremony followed traditional Buddhist rites presided over by head monastic-cum-preceptor Venerable Minzhi. In total, close to 20 men and women participated in the head-shaving. Among them were highly-educated intellectuals who graduated from the Chinese University of Hong Kong and National Taiwan Normal University. Most outstanding was the Briton Palmo who came from India to participate in the ordination. In her early years, Palmo studied Politics, Philosophy, and Economics at Oxford University and earned a master's degree, and was a university professor and editor for many years. There was also the young Korean woman Ananshun in the ordination line.
It is well-known that this system of short-term ordination was pioneered by our association, and the first program organized last year involved 13 participants, causing a stir in society at the time. This year has seen greater enthusiasm in registrations to participate; we can see that this system is suited to the needs of our times and is deeply welcomed by the public. Although the ordination period is brief, the daily classes are very intensive, and everything is carried out according to the traditional methods for head-shaving. This will enhance the spirit of Chinese Great Vehicle Buddhism without limit. Those who participated in the head-shaving included: Song Jixian (male, 63), Shi Wunian (male, 79), Chen Tie'an (male, 80), Palmo (female, 60, British), Xu Changliang (female, 43), Ananxu (female, 27, Korean), You Zhonghua (male, 50), Zhang Binghong (male, 36), Yu Qiuyong (male, 25), Luo Panjian (male, 23), Ou Zhiqiang (male, 17), Li Jueming (male, 34), Zeng Dacheng (female, 66), Liu Huanju (female, 59), Xiaoliu (female), Zheng Shengfa (male, 56), Shi Changhui (female, 63).
The personnel in the different departments of the head-shaving great assembly were as follows: president Venerable Xichen, vice-president Venerable Baodeng, abbot Venerable Xichen, head monastic Venerable Minzhi, supervisor Venerable Renjing, manager Venerable Jinshan, assistant manager Venerable Zhifan, guest master Venerable Xulang, chant leader Venerable Shenghuai, kitchen manager Venerable Liaozhi, musicians Venerables Dengci, Zhengyin, Zhiqing, Huiji, Xinzhi, managers of the hall Venerables Kaidian and Anli, and attendant Venerable Yuanhai. Those present to witness and celebrate the occasion included a representative from the Tsuen Wan village government, Buddhist College vice-president Bai Zhizhong, Professors Li Baiming, [a list of professors follows]. Lay people: [a list follows], and so forth, hundreds of people.
Venerable Thubten Damcho
Ven. Damcho (Ruby Xuequn Pan) met the Dharma through the Buddhist Students' Group at Princeton University. After graduating in 2006, she returned to Singapore and took refuge at Kong Meng San Phor Kark See (KMSPKS) Monastery in 2007, where she served as a Sunday School teacher. Struck by the aspiration to ordain, she attended a novitiate retreat in the Theravada tradition in 2007, and attended an 8-Precepts retreat in Bodhgaya and a Nyung Ne retreat in Kathmandu in 2008. Inspired after meeting Ven. Chodron in Singapore in 2008 and attending the one-month course at Kopan Monastery in 2009, Ven. Damcho visited Sravasti Abbey for 2 weeks in 2010. She was shocked to discover that monastics did not live in blissful retreat, but worked extremely hard! Confused about her aspirations, she took refuge in her job in the Singapore civil service, where she served as a high school English teacher and a public policy analyst. Offering service as Ven. Chodron's attendant in Indonesia in 2012 was a wake-up call. After attending the Exploring Monastic Life Program, Ven. Damcho quickly moved to the Abbey to train as an Anagarika in December 2012. She ordained on October 2, 2013 and is the Abbey's current video manager. Ven. Damcho also manages Ven. Chodron's schedule and website, helps with editing and publicity for Venerable's books, and supports the care of the forest and vegetable garden.
More on this topic