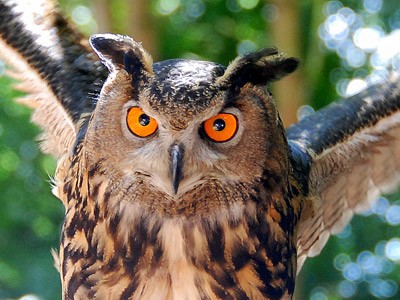 Yesterday I thought I was going to be attacked by an owl. At the prison, there is an area where we can go outside for the recreation hour. The area is enclosed with concrete walls, but the top is open so we can see the sky and get some sun. This is great for me after being stuck inside of the building for three-and-a-half years at the prison I used to be at in Amarillo. At the top of the concrete walls are some metal beams that criss-cross in order to prevent someone from climbing out. Several birds nest in the beams. Sometimes I watch them and listen to them chirp at one another.
Yesterday I was standing at the gate, waiting to come in, when the birds started raising a ruckus. When I turned around and looked up, an owl was swooping down inside the recreation area just a few yards from my head. I guess he had attacked one of the nests, and the bird there had fled. He caught the little bird and flew up and landed on the basketball goal for a second and then few away with him. It happened so fast I was startled by it. Another guy who was out there and I had just been talking about how the birds were mean to each other, fighting, stealing food from each other and such. When this happened, it kind of freaked me out. I had never seen the owl before.
Venerable Thubten Chodron
Venerable Chodron emphasizes the practical application of Buddha's teachings in our daily lives and is especially skilled at explaining them in ways easily understood and practiced by Westerners. She is well known for her warm, humorous, and lucid teachings. She was ordained as a Buddhist nun in 1977 by Kyabje Ling Rinpoche in Dharamsala, India, and in 1986 she received bhikshuni (full) ordination in Taiwan. Read her full bio.