Rejoicing in living at Sravasti Abbey
Rejoicing in living at Sravasti Abbey
Rejoicing in living at Sravasti Abbey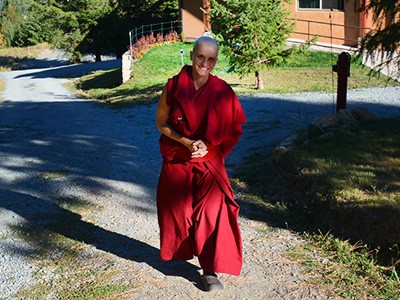 Venerable Thubten Jampa has lived at Sravasti Abbey for three years now and recently went to her native Germany for a visit. After a month she had a Skype call with the Abbey community to catch up and share, and afterwards she wrote the following to the community.
I am only able to practice now as best as I can and therefore I am able to be joyful because I learned it all from you and with you. Let's take an example:
I realized that people here in Hamburg sometimes look a bit longer at me because I'm wearing robes. What do you think I do or think then? I SMILE! I smile and then they sometimes smile back. Or I see people walking towards me, for example when I am in the park for a walk. Elderly people especially do not look so happy here. And it is amazing what happens when I smile at them. I am sure you know, but for me it's new and amazing. They become my grandma, my neighbor, my friend. Smiling makes the park a big family where we feel some closeness to each other and some joy when walking by each other.
Before my training at the Abbey I seldom smiled at people I did not know and I never greeted them. I was selfish and not interested in them. I was anxious or proud. But now I am more open, confident, and interested in them. I have the wish to connect with them and to do something good for them. This is much better than any cake!! Really, it is so satisfying! And I learned it all from you! Thank you!
Venerable Thubten Jampa
Ven. Thubten Jampa (Dani Mieritz) is from Hamburg, Germany. She took refuge in 2001. She has received teachings and training from e.g. His Holiness the Dalai Lama, Dagyab Rinpoche (Tibethouse Frankfurt) and Geshe Lobsang Palden. Also she received teachings from Western teachers from the Tibetan Center in Hamburg. Ven. Jampa studied politics and sociology for 5 years at the Humboldt-University in Berlin and received her diploma in Social Science in 2004. From 2004 to 2006 she worked as a Volunteer Coordinator and fundraiser for the International Campaign for Tibet (ICT) in Berlin. In 2006, she traveled to Japan and practiced Zazen in a Zen monastery. Ven. Jampa moved to Hamburg in 2007, to work and study at the Tibetan Center-Hamburg where she worked as an event manager and in administration. On August 16, 2010, she received the Anagarika vows from Ven. Thubten Chodron, which she kept while fullfilling her obligations at the Tibetan Center in Hamburg. In October 2011, she entered training as an Anagarika at Sravasti Abbey. On January 19, 2013, she received both the novice and training ordinations (sramanerika and siksamana). Ven. Jampa organizes retreats and supports events at the Abbey, helps with offering service coordination and supports the health of the forest. She is a facilitator for the Friends of Sravasti Abbey Friends online education program (SAFE).
More on this topic