Falling in love with everyone
Falling in love with everyone
Falling in love with everyone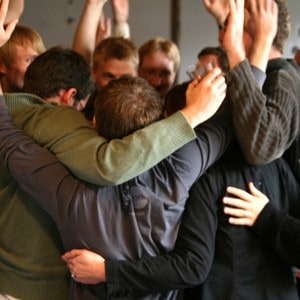 How could we ever love everyone:
Thieves, profiteers, liars and drones,
Wicked geniuses,
And the tide of murderous zealots?
But, how then can we not?
How can one not finally feel affection for them all,
All of these brain-damaged back-ward denizens
Overflowing this vast insane asylum of mundane existence?
After all, how could they not be
Just the teeming hordes of past-life
Mothers and daughters, fathers and sons,
Wives and husbands, sisters and lovers?
How could they not be
Just the endless, crushing crowd of former intimates,
Disguised now in rags of anger and lust,
Empty bowls in hand, begging for the pill of pleasure,
That magic little pill,
Banishing pain for merely a moment
From the feverish plague
Of karma-bound suffering?
Published with permission.
Venerable Thubten Chodron
Venerable Chodron emphasizes the practical application of Buddha's teachings in our daily lives and is especially skilled at explaining them in ways easily understood and practiced by Westerners. She is well known for her warm, humorous, and lucid teachings. She was ordained as a Buddhist nun in 1977 by Kyabje Ling Rinpoche in Dharamsala, India, and in 1986 she received bhikshuni (full) ordination in Taiwan. Read her full bio.
More on this topic