Walking in your footsteps
Walking in your footsteps
Walking in your footsteps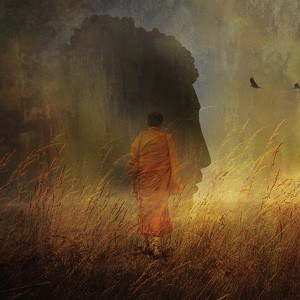 There are places that have statues of you seven feet high;
Yet you would not hurt a fly.
I hope someday to walk in your footsteps.
You taught us about suffering and why,
You taught us not to be afraid to die,
Walking in the Buddha's footsteps.
Someday the gems of your wisdom will inherit the earth.
We must give up hatred, cravings, lust and lies
If we hope to walk in the Buddha's footsteps.
The wisdom you left behind will outlast both man and time.
Therefore, we must all try to walk in your footsteps.
As I think about all of the wonderful things you left behind,
I can't help but try to walk in your footsteps.
I will try and try until the day I die to walk in your footsteps.
Thank you, Lord Buddha, for being so loving and kind
And leaving your wisdom behind,
Sharing it with all of mankind.
Venerable Thubten Chodron
Venerable Chodron emphasizes the practical application of Buddha's teachings in our daily lives and is especially skilled at explaining them in ways easily understood and practiced by Westerners. She is well known for her warm, humorous, and lucid teachings. She was ordained as a Buddhist nun in 1977 by Kyabje Ling Rinpoche in Dharamsala, India, and in 1986 she received bhikshuni (full) ordination in Taiwan. Read her full bio.
More on this topic