In the footsteps of the Buddha
In the footsteps of the Buddha
In the footsteps of the Buddha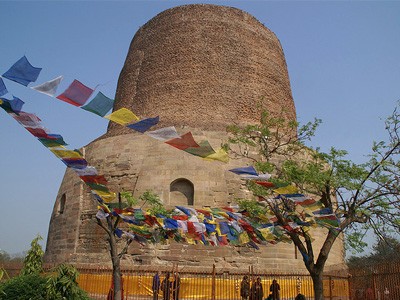 Ity Sofer, an Israeli, is a student of Goenka-ji and a friend of Venerable Thubten Chodron's. He wrote to her about his pilgrimage in India.
During a recent retreat, the aspiration arose in me to walk from Bodhgaya, where the Buddha attained enlightenment, to Sarnath, where he gave his first teachings. I wanted to go on foot, as the Buddha did after he attained the supreme goal, when he went to meet his first five disciples, turn the Wheel of Dharma, and share the path with them.
I looked for companions who were interested in joining me for the walk. An Indian Theravadin monk and a Thai monk were both enthusiastic to go. We timed the walk to arrive in Sarnath just before our teacher would arrive there for a pilgrimage.
We took hardly anything with us, just a change of clothes, a mosquito net, and the alms bowls of the two monks. We wanted to get our food by going house to house and collecting alms. I took the eight precepts, so, like the monks, I didn't eat solid food after noon.
Each morning, we arose early and began walking in the cool air. About 10 a.m. we began collecting alms in the nearest village. Sometimes householders would invite us to have our meal in their homes. Other times they would put some rice, lentils, or vegetables in the monks' bowls, and we continue to gather alms at the following houses. At times, we came across very poor villages that hadn't much to offer, and it was a good experience to be humble and accept gladly whatever was offered to us. We never remained hungry.
People were very generous to us. I kept telling the monks that we received all we did because they had created so much merit in the past by giving offerings. In the evenings we would look for a temple to sleep in. Most of these were Hindu temples, so it was interesting to see their reactions to us and the way of life in their temples. The local people welcomed us gladly and always took care of us however they could.
Bihar, the province we walked through, has some beautiful countryside, green and full of streams and rivers. Canals run through the green fields. It was a unique experience to walk through this area with the monks, just as the Buddha did over 2,500 years ago and to be almost totally dependent on the kindness of others. We took a small amount of money for special needs, but hardly ever used it.
All three of us suffered from pain and fatigue as we were not used to walking such long distances each day. We covered 288 kilometers in 11 days, the same time time it took the Buddha to go from Bodhgaya to Sarnath. The last part of the pilgrimage was along the Varanasi-Calcutta highway, where walking was difficult with so many trucks speeding by. It was noisy and full of smoke and pollution. We suffered a bit from that.
Finally, we entered Varanasi (Benares) and crossed the city towards Sarnath. After we arrived, all three of us felt weak and feverish. We had diarrhea because of the food we ate along the way, but our minds were filled with bliss, delight and satisfaction because we had done this unique walk in our life and had strengthened our faith in the Three Jewels. Throughout the journey we felt completely safe and protected by Dharma forces. We never had fear or doubt. It was amazing how when we support the Dharma, we are supported in all aspects.
Guest Author: Ity Sofer
More on this topic