Buddha's door
Buddha's door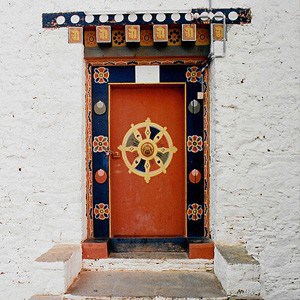 Concentrated breathing, with no expectations
I'm ready and relaxed for today's meditation
I close my eyes and clear my mind
Looking for peace, and this is what I find
I find a door opened with something inside
It's a set of wings that open real wide
I give thanks to the Buddha for what I am seeing
And dedicate this vision to all sentient beings
So I put on the wings; I'm ready to fly
Free in my heart as I soar through the sky
I fly over mountains and over the trees
It's such a great feeling as my mind is set free
At this moment I'm free from the suffering in life
Free from the pain that cuts like a knife
If you want this feeling, wonder no more
Just turn the key to the Buddha's door.
Venerable Thubten Chodron
Venerable Chodron emphasizes the practical application of Buddha's teachings in our daily lives and is especially skilled at explaining them in ways easily understood and practiced by Westerners. She is well known for her warm, humorous, and lucid teachings. She was ordained as a Buddhist nun in 1977 by Kyabje Ling Rinpoche in Dharamsala, India, and in 1986 she received bhikshuni (full) ordination in Taiwan. Read her full bio.
More on this topic