Scholarship from death row prisoners
Scholarship from death row prisoners
A death row prison group awards 19-year-old whose sister was murdered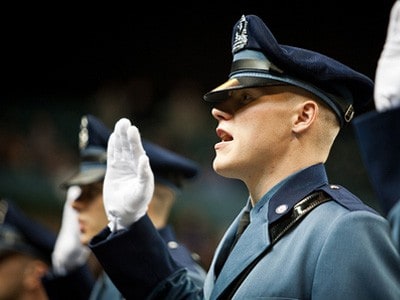 Reverend McAllister sent in a news article about a special program set up by incarcerated people on death row.
The Associated Press
Updated: 7:25 a.m. ET June 7, 2005
RALEIGH, N.C.—Zach Osborne doesn't have a lifetime of memories about his little sister. He was only 6 years old, and she was only 4, when she was raped and murdered.
Their mother's boyfriend was sentenced to death for the crime, and Osborne believes the memory of the murder will make him a better police officer. It's a goal the rising sophomore at East Carolina University is striving to reach with help from an unlikely source—incarcerated people on death row from around the country.
On Tuesday, Osborne, 19, will receive a $5,000 college scholarship from the group, who solicited money through their bimonthly publication, "Compassion." Including Osborne's grant, they have given out seven scholarships worth about $27,000.
"We would like to support him in realizing his dream of becoming an officer of the law and finding a way to prevent future violence," wrote Dennis Skillicorn,1 an incarcerated person on death row in Missouri who is the newsletter's editor, in the May issue. "Our intent is genuine."
Osborne's sister, Natalie, was murdered in Asheboro in April 1992. The killer, Jeff Kandies, is on North Carolina's death row for the crime.
Living through that experience, Osborne said, will "motivate me more to solve cases or to put more effort in them. It will motivate me to try to prevent events like what happened to my family from happening to others."
Focus on 'positive contributions'
Incarcerated people on death row contribute artwork, essays and poetry to "Compassion," a project of the Roman Catholic Church's peace and justice committee. It carries no accounts on individual cases or complaints about prison life, focusing instead on what it calls the "positive contributions of incarcerated people on death row."
The newsletter is sold by subscription, with the money used to pay the cost of publishing and fund the scholarships. To win his, Osborne wrote an essay about the crime and the effect it had on him and his family.
Among the others who have received a scholarship is Brandon Biggs, whose father was hit by a car in Fort Worth, Texas, in 2001. Stuck in the windshield, he was left to die despite his pleas for help.
"People want to know why we do what we do," Skillicorn said. "You just need to read one of the essays and then you'll know."
---
Note: Dennis Skillcorn was executed in May, 2009 ↩
Reverend Kalen McAllister
Rev. Kalen McAllister was ordained by Rev. Shoken Winecoff in 2007 at Ryumonji Monastery near Decorah, Iowa. She is a long-time practitioner of Zen, and was active in the operation of the Missouri Zen Center for many years. In March, 2009, she received an award from the Women's Buddhist Council in Chicago for her work with prisoners in several eastern Missouri prisons. In 2004, she co-founded Inside Dharma, an organization dedicated to assisting prisoners in practical matters, as well as supporting their practice of meditation and Buddhism. Rev. Kalen received Dharma transmission in March, 2012, from her teacher, Shoken Winecoff, at Ryumonji Zen Monastery. In April, she traveled to Japan to be formally recognized (Zuise) at the two major temples, Eiheiji and Sojiji, in ceremonies where her robe was officially exchanged to brown and she was recognized as a Dharma teacher. (Source: Shinzo Zen Meditation Center)
More on this topic