A nun in exile: From Tibet to India
A nun in exile: From Tibet to India
A nun in exile: From Tibet to India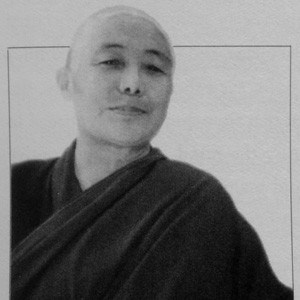 From Blossoms of the Dharma: Living as a Buddhist Nun, published in 1999. This book, no longer in print, gathered together some of the presentations given at the 1996 Life as a Buddhist Nun conference in Bodhgaya, India.
I was born in a village in Kham, in the eastern part of Tibet, many years before the Chinese occupation of our country. The terrain was beautiful, but travel was difficult. Most people were peasants working the land, so we tended to stay close to our birthplace. No nunnery existed near my village in Kham, so I, like some other nuns, did not experience living in a nuns' community while in Tibet. However I would like to share my experience of being a nun in Tibet and now as a refugee in India.
I became a nun when I was twelve years old. In "old Tibet" many families wanted at least one of their children to be a monastic as it was regarded very meritorious for the family. Therefore, since my family had two daughters, my parents said that one of us must become a nun. Since I was not adept at doing work around the house, in the fields, or with the animals, I was the one who ordained. Although I became a nun at a young age, I was unable to receive many teachings as no lama or monastery existed nearby. My father taught me to read and write the Tibetan language, and I stayed at my family's house until I was twenty-one. Tibetan nuns, even those in nunneries, did not do philosophical studies or debate at that time, but mostly engaged in rituals and meditation practices to purify the mind and create positive potential. Thus, during those years, I did many Nyung Ne, the two-day fasting retreat of Chenresig, the Buddha of compassion, as well as chanted one hundred thousand Praises to Tara.
When I was twenty-one, my mother passed away. A lama living in the mountains nearby came to our home at that time to do prayers for my mother and the other villagers. He also gave teachings to the lay people and the seven nuns in the area. He instructed us to do many Nyung Ne practices, which we did, together with one hundred thousand recitations of Chenresig's mantra. We also completed one hundred thousand recitations of the praise to Lama Tsong Khapa, together with guru yoga. Five of us nuns then went to the lama and stayed in retreat where we recited one hundred thousand refuge mantra and did many other recitations and practices. These practices helped us to purify our negative actions, deepen our confidence in the Three Jewels, and develop love and compassion. At age twenty-two, I received the sramanerika vow. I also received the Vajrayogini initiation and did that practice daily, but was unable to do the retreat due to the turbulence caused by the communist occupation of my country.
In 1958, my father, my teacher, and I left for Lhasa, thinking the situation might be better there. However, Lhasa was also occupied by the communist Chinese, and the atmosphere there was extremely tense. Fortunately, I had an audience with His Holiness the Dalai Lama there, which gave me much strength and confidence, qualities that would do me well in what was to come. By the spring of 1959, the Chinese controlled all of Lhasa, and we feared that our old way of life and our religious institutions were in jeopardy. My teacher stayed at Drepung Monastery just outside Lhasa, while we stayed in the city itself. When fighting between the Tibetans and Chinese broke out in March 1959, my father and I wanted to flee that very night. Although we were unable to leave then, my teacher escaped. The following morning my father told me that we must leave that night and instructed me to get our things that were at a friend's home. While I was gone, the Chinese captured my father. On my way back, I saw my father standing on the road with the Chinese police. I wanted to go to him and hold him so they could not take him, but I dared not because the Chinese might have killed us both. Helplessly, I watched as they took him away to a destination unknown to me.
Finding my father was difficult because the Kham dialect I spoke was different from the dialect spoken in Lhasa, so I could not easily communicate with people. However, after two months, I succeeded in locating him in one of the prisons. Finally, when some Westerners—I think they were Americans—came to visit Tibet, the Chinese released some of the old prisoners, my father among them. At that time I was living in Lhasa and doing my religious practice. However, the communist Chinese regarded religious practice as useless and religious people as parasites on society, so they ordered me to work. Both my father and I began to work as manual laborers. Since he had to carry soil, sometimes his legs were completely swollen due to the strain. Exhausted from working all day, we were forced to attend political meetings organized by the Chinese communists each evening. During that period, I and many others suffered so much. However, we regarded this as being due to our previous karma. The Buddha said, "Happiness arises from our previous positive actions, and suffering from our negative ones," so we tried not to be angry with those oppressing us. In any case, anger is useless in such situations: it only adds more emotional turmoil to the physical suffering that one is already experiencing. In addition, when angry, we do not think clearly and often make wrong decisions or act brashly, bringing more suffering to ourselves and others.
In 1972, my father passed away. We had been working and waiting in Lhasa, hoping that the Chinese occupation would end soon and that Tibet would regain its independence. That did not happen; but in the early 1980s restrictions relaxed a little, and the Chinese allowed some Tibetans to go to India. I wanted to go to India, but to do so, I needed a letter from a Tibetan there saying that we were relatives and asking me to come for a visit. I sent a letter to one of my teachers at Ganden Monastery in South India, and he sent me a letter of invitation, which I took to the Chinese office in Lhasa to get the papers necessary for travel to India. I told the Chinese officers that he was my relative, not my teacher, and requested to go to India for only three months to see him. When permission to go finally came through, I left all my belongings in Tibet, as if I was planning to return. Had I not done that, they would have suspected me of not intending to return and prevented me from leaving.
Thus I became a refugee. I stayed one month in Nepal and then went to Bodhgaya, India, where I received teachings on the bodhisattvas' practices. Then I went to Drepung Monastery, reconstructed in South India by Tibetans in exile, to see my teacher. After visiting him in Drepung, I went to Dharamsala where I received teachings on the eight texts of the Lamrim, the gradual path to enlightenment. I also had the fortune to receive some initiations and teachings on the bodhisattvas' practice in Varanasi, the Kalachakra initiation in Bodhgaya, and teachings on the Guru Puja as well as various initiations in Dharamsala. Having been unable to receive many teachings as a young nun and having had to do hard manual labor under the Chinese for many years, I was delighted to finally have the opportunity to learn more about the Dharma which I cherished so much.
Establishing Jangchub Choling Nunnery
When I first went to see my teacher in Mundgod, South India, there was not a nunnery there. Later, while Jangchub Choling Nunnery was being constructed, the Tibetan Women's Association told me I was welcome to join the nunnery, but I declined at that time. In January 1987, a representative from the Tibetan Welfare Office invited me to attend the opening ceremony of the nunnery even though I did not intend to join it. His Holiness the Dalai Lama was going to be present, and I thought it would be good to receive his blessing, so I went to Mundgod to help with the preparations before his arrival. Since the nunnery had just been completed, it was very dusty and required a lot of cleaning and decorating to make it nice before the opening ceremony. All the nuns in the area—nearly twenty of us—were asked to be present for His Holiness' visit, which we were only too happy to do. Some nuns were very old, coming from the old people's home next door to the nunnery. Others were very young, in their young teens.
While His Holiness was at the nunnery, he asked if anyone was from Tibet. When I replied positively, he said, "There are many monasteries for the monks in India, but very few nunneries. I would like nunneries to be opened in all the big Tibetan settlements in India. Whenever I meet someone who could assist with this, especially those from the Tibetan Women's Association, I ask them to help the nuns. Many Westerners ask me why there are so many monasteries for the monks and hardly any nunneries for the nuns. Now Jangchub Choling Nunnery is opening and I am very happy. Please learn the Dharma well. Since the nunnery is located near both Ganden and Drepung Monasteries, you will not face many problems finding teachers. You must study hard and become expert nuns in the future." After His Holiness had said this, I could not just leave the nuns at Mundgod. As a senior nun, I felt responsible to enact His Holiness' wishes and to care for the development of the young nuns. Since he had emphasized that we must study hard and make the nunnery successful, I decided to stay, join the nunnery, and do what I could to help the nuns. Only a few of the living quarters for the nuns had been completed, and more construction was desperately needed. We had no water or electricity so the sanitation was poor. Due to a shortage of housing at the nunnery, the elder nuns stayed in the old people's home, where their rooms had no doors, windows, or proper bedding. The younger nuns whose families lived nearby slept at their family's house. For almost eleven months, I stayed alone at the nunnery at night while the other nuns lived elsewhere.
In the spring of 1987, the first international meeting of Buddhist women was held in Bodhgaya. Although I did not attend, I learned it was highly successful and led to the establishment of Sakyadhita, the international organization for Buddhist women. Venerable Jampa Tsedroen, one of Geshe Thubten Ngawang's students from the Tibet Center in Germany, attended this conference and afterwards came to our nunnery in Mundgod. She wanted to be with nuns, and in addition, the Department of Religious and Cultural Affairs of the Tibetan government-in-exile asked her to visit Jangchub Choling. When Jampa Tsedroen asked to stay in the nunnery, we told her that she was most welcome, but we had neither a proper room nor bedding for her. All we had to offer was a hard wooden bed with one bed sheet, so she stayed at Ganden Monastery nearby. The next day she sponsored a Guru Puja, which the nuns performed, and she photographed the nuns and our facilities. She explained that she wanted to find sponsors so that we could build proper rooms, toilets, bathrooms, and kitchen. When the rooms were built, the young nuns came to live at the nunnery.
The Tibetan Welfare Office in our area helped us sponsor the nuns' living costs. They gave forty rupees a month for each young nun who came to study, and each nun had to bring thirty additional rupees from her family in order to cover her expenses. The following year, when Geshe Thubten Ngawang came to the nunnery, we asked for help, and he and Jampa Tsedroen found a sponsor for each nun. The Welfare Office asked Geshe Khenrab Thargye to teach us, and Jampa Tsedroen also requested Geshe Konchog Tsering to instruct the nuns. Both of these excellent geshes continue to teach the nuns. Whatever we have now is due to the kindness of all these people.
The Welfare Office, together with another Western nun, provided us with religious texts, English textbooks, and exercise books. All the nuns are most grateful to the Westerners who made it possible for us to build facilities and establish an educational program. Last year, we finished the construction of more living quarters, classrooms, and a dining hall, sponsored by Ms. Baker and many people from the West. Westerners have helped not only our nunnery, but many Tibetan institutions—nunneries, monasteries, hospitals, and schools, and we are grateful for this. What we Tibetans have been able to accomplish in exile is also due to the kindness of His Holiness the Dalai Lama. Countless bodhisattvas have appeared on earth, but they have not been able to subdue our minds. Even now His Holiness is trying to subdue us and show us the way to enlightenment, so we are very lucky.
Daily life in the nunnery
As for our daily schedule: we get up at 5:00 A.M. and go to the temple for our morning prayers, after which we dedicate the positive potential for the peace and happiness of all sentient beings and the long life of His Holiness the Dalai Lama. After breakfast, we attend teachings for one or two hours. This is followed by debate, which allows us to discuss and reach a clearer understanding of the Buddha's teachings. Only in recent years have nuns begun to study the philosophical texts and debate their meanings, activities in which previously only monks engaged. This advancement in nuns' education has occurred due to His Holiness' instructions and the interest of the young nuns. Lunch follows, and in the afternoon we have Tibetan and English classes. In the evenings, we again do prayers in the main temple for an hour. We principally do Tara Puja, as well as other practices. After that, we again have debate, after which the nuns study on their own, reading books and memorizing the scriptures. We go to bed around midnight.
In general, the nuns cooperate well with each other and with those in positions of responsibility in the nunnery. Since I am the most senior nun, I have to discipline and advise them when necessary. They follow my counsel and are not rebellious or headstrong. Sometimes I have had to hit some of the younger ones when they misbehaved, but they don't mind it too much. They do not take it seriously or fight against me, as they know that my intentions are to help them be good nuns. In fact, when I told them that a few other nuns and I were going to 'Life as a Western Buddhist Nun', many of them cried and said they couldn't enjoy the Tibetan New Year's celebrations because the senior nuns would be away!
On Mondays, we have a day off, but I do not allow the nuns to be idle then. They must study or memorize on those days too. Even at New Year's they don't have special holidays. Every now and again they do ask for a holiday, and this is fine. Although it is difficult to establish a nunnery from scratch with few resources, I think we have done quite well. I am very happy that the nuns now have better educational opportunities than in the past, and that many of them are taking advantage of this. In 1995, nuns from the various nunneries in exile had a large debate session, lasting many days in Dharamsala. At the conclusion, for the first time in history, some of the best nuns debated at the main temple, in front of His Holiness the Dalai Lama. Of course, some were nervous, but afterwards many people commented how well they did. I continuously request them to study and practice well for the sake of sentient beings and to pray for the long life of His Holiness and our other teachers. We are so fortunate to have this opportunity to learn and practice the Buddha's teachings!
Venerable Thubten Lhatso
Born in the 1930s, Sramanerika Thubten Lhatso ordained as a nun when she was a child and practiced in her native province of Kham, Tibet, before going to Lhasa. Wanting to practice the Dharma in freedom, she left Chinese-occupied Tibet in the 1980s and went to India. There she was instrumental in establishing Jangchub Choeling Nunnery in South India, where she is now one of the senior nuns.
More on this topic