Suggested reading
Suggested reading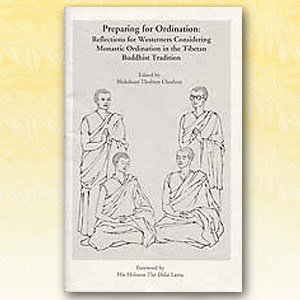 A series of articles published as Preparing for Ordination, a booklet prepared by Venerable Thubten Chodron and available for free distribution.
Bhikkhu, Thanissaro. The Buddhist Monastic Code. (For free distribution. Contact: The Abbot, Metta Forest Monastery, P.O. Box 1409, Valley Center, CA 92082 USA, 1994.)
Chodron, Thubten, ed. Blossoms of the Dharma: Living as a Buddhist Nun. Berkeley: North Atlantic Books, 2000.
Dhirasekera, Jotiya. Buddhist Monastic Discipline. Sri Lanka: Ministry of Higher Education Research Publication Series, 1982.
The Essentials of the Rules of Discipline for Sramanera and Sramanerikas. The Daily Requisites of Vinaya. English translator unknown. Los Angeles: International Buddhist Progress Society, 1988.
Gyatso, Tenzin. Advice from Buddha Shakyamuni Concerning a Monk's Discipline. Dharamsala, India: Library of Tibetan Works and Archives, 1982.
Hanh, Thich Nhat. For a Future to Be Possible. Berkeley, Parallax Press, 1993.
Hirakawa, Akira. Monastic Discipline for the Buddhist Nuns. Patna: K.P. Jayaswal Research Institute, 1982.
Horner, I.B. The Book of the Discipline, Part I-IV. London: Routledge & Kegan Paul Ltd., 1982.
The Profound Path of Peace, Issue No. 12, Feb. 1993. International Kagyu Sangha Association (c/o Gampo Abbey, Pleasant Bay, N.S. BOE 2PO, Canada).
Tekchok, Geshe. Monastic Rites. London: Wisdom Publications, 1985.
Tsomo, Karma Lekshe, ed. Sakyadhita: Daughters of the Buddha. New York: Snow Lion Publications, 1989.
Tsomo, Karma Lekshe. Sisters in Solitude: Two Traditions of Monastic Ethics for Women. Albany, New York: State University of New York Press, 1996.
Wijayaratna, Mohan. Buddhist Monastic Life. Cambridge: Cambridge University Press, 1990.
Yin, Venerable Bhikshuni Wu. Choosing Simplicity: A Commentary on the Bhikshuni Pratimoksa. Ithaca: Snow Lion, 2001.
Yin, Venerable Wu. Teachings on the Bhikshuni Pratimoksa. (Set of audio tapes made at Life as a Western Buddhist Nun, Bodhgaya, India, 1996. Contact: American Evergreen Buddhist Association, 13000 NE 84th St., Kirkland WA 98033, USA.)
Venerable Thubten Chodron
Venerable Chodron emphasizes the practical application of Buddha's teachings in our daily lives and is especially skilled at explaining them in ways easily understood and practiced by Westerners. She is well known for her warm, humorous, and lucid teachings. She was ordained as a Buddhist nun in 1977 by Kyabje Ling Rinpoche in Dharamsala, India, and in 1986 she received bhikshuni (full) ordination in Taiwan. Read her full bio.
More on this topic