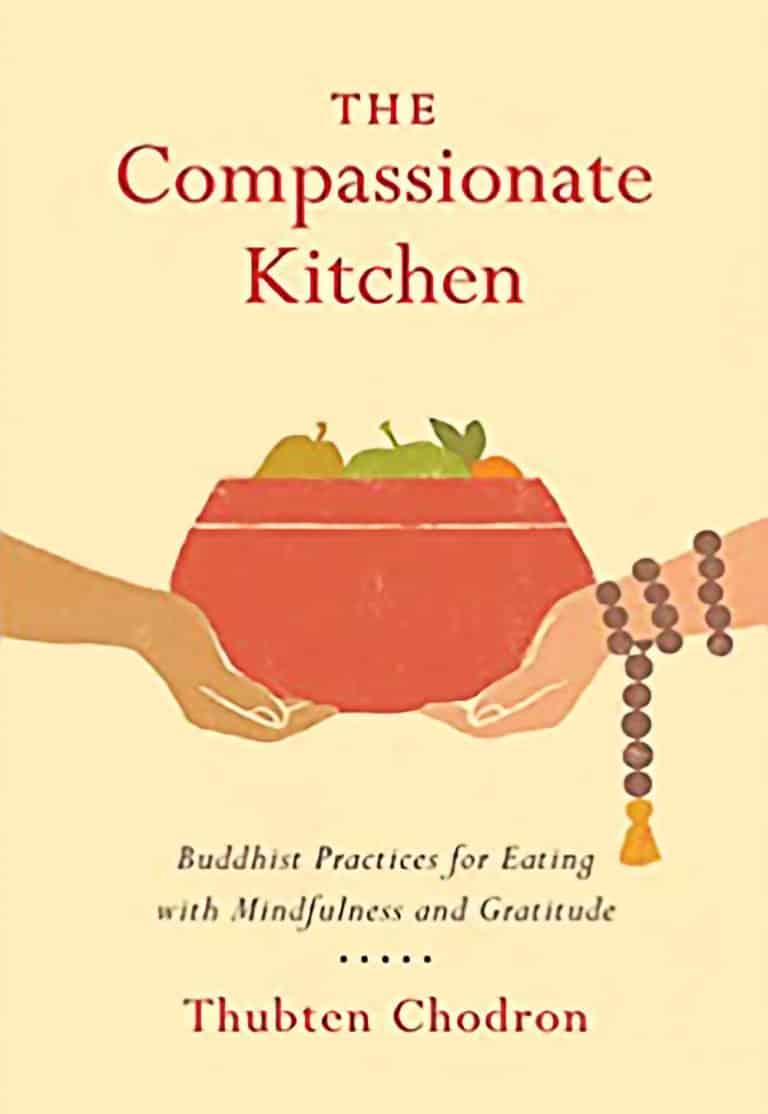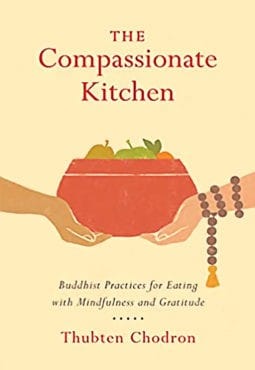 The Compassionate Kitchen
Buddhist Practices for Eating with Mindfulness and Gratitude
Food can be used to nourish both the body and the mind. The Compassionate Kitchen speaks to eating as a spiritual practice and offers wisdom from the Buddhist tradition that we can use at home.
Order from
About the book
Every aspect of our daily activities can be a part of spiritual practice if done with that in mind. This is a compact guide for making eating–and all the activities related to it–into a discipline that generates wisdom, insight, and compassion.
This book is based on a series of talks that Venerable Chodron gave over two months in 2016 to her monastic community of Sravasti Abbey in Washington state and to her many lay students who had asked her to teach on the topic of food and how to use it to nourish mind as well as body. She shows how eating, and everything related to it–preparation of food, offering and receiving it, eating it, and cleaning up after–can contribute to awakening and to increased kindness and care toward others. It's based on traditional Buddhist teachings with advice for bringing these principles into one's own home in order to make the sharing of food a spiritual practice for everyone.
The story behind the book
Venerable Thubten Chodron reads an excerpt
Excerpts
Talks
Media coverage
Reviews
Post your review on Amazon.
In India 2,600 years ago, renunciates including the Buddha, fed themselves by going on alms rounds. This was viewed by all as a beautiful exchange – lay followers offered food to nourish the body, and monastics offered the dharma to feed the heart and mind. When American Buddhist nun Thubten Chodron founded Sravasti Abbey in Washington State, she wanted to adopt the spirit of this ancient tradition and decided that those staying at the abbey would survive on donated food. At first, people thought she was crazy and that they'd starve, but friends – and even strangers – have been consistently generous. Now, to reciprocate this kindness, the abbey doesn't charge anyone for anything – room, board, or teachings. In this way and many others, life at Sravasti Abbey is informed by Buddhist teachings and practices, which are related to food. In "The Compassionate Kitchen," Thubten Chodron suggests how to bring these teachings and practices into our homes.
"The Compassionate Kitchen" is a very rich menu of Buddhist theory and practice concerning food and cultures surrounding food that I have encountered to date in English language. From the appetizer items of the background philosophical principles and general perspectives on food, to the main entries of the proper conduct and mind-set while eating, to the choicest desserts of dedication prayers and concluding rituals, among others, it captures a complete treatment of the Buddhist concept of food in an easily digestible manner. On top of that, it beautifully displays them all out through the scenario of the actual practice being followed at Sravasti Abbey where the author herself is the founder, abbess, and an indispensable guide.
This precious book reveals mealtime as meditation, and cooking and dining as sacred offerings to the noble ones. Ven. Chodron generously guides us to transform once and for all our relationship with food. A fresh and unique treasure!