Compassion manifesting in skillful means
Compassion manifesting in skillful means
Compassion manifesting in skillful means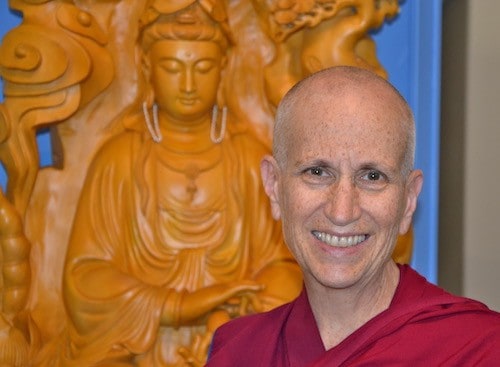 An article by Venerable Thubten Chodron published October 8, 2022, in Mindfulness.
In these times of escalating social strain, compassion is ever more crucial in keeping our communities together.
Venerable Thubten Chodron was recently invited to contribute an article about compassion and skillful means as an expression of compassion to Mindfulness, a Springer Nature academic journal that explores the nature and foundations of mindfulness and its use across cultures.
We're delighted to share her paper, "Compassion Manifesting in Skillful Means," for free as part of the Springer Nature Content Sharing Initiative. Read it here.
You can read an abstract below. We hope this article will be a resource that brings benefit to you and all whom you are connected with.
Abstract for "Compassion Manifesting in Skillful Means"
By Bhikshuni Thubten Chodron
Contemporary philosophers and scientists have been taking greater interest in compassion and skillful means and devising programs to teach them. In light of the increase in violent actions and harsh and divisive speech in society today, these topics are of crucial importance. Buddhism has an abundance of teachings on compassion, skillful means, and methods to cultivate them. These "teachings from the East" can complement and enhance the Western approach to these topics. Having trained as a monastic in the Tibetan Buddhism tradition since 1977, I write from within the Buddhist tradition, sharing knowledge from source material in India and Tibet and oral teachings and explanations of Tibetan teachers. This article explains what compassion is and is not and how to cultivate compassion as taught in the Indo-Tibetan Buddhist tradition. There are also recommendations on how to adapt traditional Buddhist compassion training to a secular environment.
Venerable Thubten Chodron
Venerable Chodron emphasizes the practical application of Buddha's teachings in our daily lives and is especially skilled at explaining them in ways easily understood and practiced by Westerners. She is well known for her warm, humorous, and lucid teachings. She was ordained as a Buddhist nun in 1977 by Kyabje Ling Rinpoche in Dharamsala, India, and in 1986 she received bhikshuni (full) ordination in Taiwan. Read her full bio.
More on this topic