A path of understanding
A path of understanding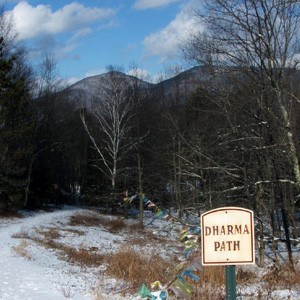 Too much sorrow, sadness and misery,
There's a path of understanding for you and me.
No more anger and no more hate.
There's not much time left to procrastinate,
We all have to change our lives before it's too late.
You can't even run and don't try to hide,
Here's where you learn what's going on inside.
You can forget about wealth now and turn away from greed.
I'm not trying to change your life, I'm just planting seeds.
We must till our gardens of life and pull out the "suffering " weeds.
Well, you'll learn how to love and you'll learn how to care,
For when you open your heart,
Just know it's the best gift you can share.
As the river of enlightenment flows like the mountain streams,
Don't get caught up in inherent existence and trivial things.
So as the wheel of Dharma spins round and round,
Remember if we're diligent Nirvana can be found.
Venerable Thubten Chodron
Venerable Chodron emphasizes the practical application of Buddha's teachings in our daily lives and is especially skilled at explaining them in ways easily understood and practiced by Westerners. She is well known for her warm, humorous, and lucid teachings. She was ordained as a Buddhist nun in 1977 by Kyabje Ling Rinpoche in Dharamsala, India, and in 1986 she received bhikshuni (full) ordination in Taiwan. Read her full bio.
More on this topic