Homage to Manjushri
The Buddha of Wisdom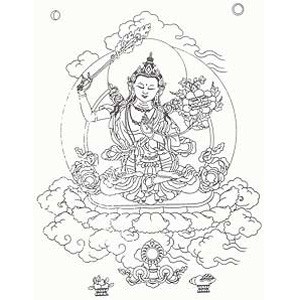 Obeisance to my Guru and Protector, Manjushri,
Who holds to his heart a scriptural text symbolic of his seeing all things as they are,
Whose intelligence shines forth like the sun, unclouded by the two obscurations,
Who teaches in sixty ways, with the loving compassion of a parent for his only child, all wanderers caught in the prison of samsara, confused in the darkness of their ignorance, overwhelmed by their suffering.
You, whose dragon-thunder-like proclamation of Dharma arouses us from the stupor of our delusions and frees us from the iron chains of our karma;
Who wields the sword of wisdom hewing down suffering wherever its sprouts appear, clearing away the darkness of ignorance;
You, whose princely body is adorned with the one hundred and twelve marks of a Buddha,
Who has completed the stages achieving the highest perfection of a bodhisattva,
Who has been pure from the beginning,
I bow down to you, O Manjushri;
om ah ra pa tsa na dhi
(recite many times)
With the brilliance of your wisdom, O compassionate one,
Illuminate the darkness enclosing my mind,
Awaken my intelligence and wisdom
So that I may gain insight into the Buddha's words and the texts that explain them.
See also Introduction to the Manjushri practice.
Venerable Thubten Chodron
Venerable Chodron emphasizes the practical application of Buddha's teachings in our daily lives and is especially skilled at explaining them in ways easily understood and practiced by Westerners. She is well known for her warm, humorous, and lucid teachings. She was ordained as a Buddhist nun in 1977 by Kyabje Ling Rinpoche in Dharamsala, India, and in 1986 she received bhikshuni (full) ordination in Taiwan. Read her full bio.
More on this topic