The precept of nonviolence
The precept of nonviolence
The precept of nonviolence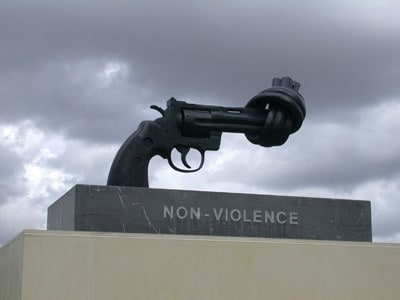 Since taking the precept to be nonviolent, I haven't physically harmed anyone or anything. Recently at work (I work in the laundry department in the prison), someone snatched something that belonged to me. Rather than making a fuss or worse, I took some time to think. This person works with me, and I knew that sooner or later, what he took would turn up again. And it did. I didn't even tell the supervisor what happened, and as of today, he still works with me.
The people who know of my vows didn't agree with how I handled it, but they respect it. I mean, what's the point in taking a vow if you break it the first chance you get?
The vows aren't easy to keep at first, but it does get easier each time I choose to keep them.
Venerable Thubten Chodron
Venerable Chodron emphasizes the practical application of Buddha's teachings in our daily lives and is especially skilled at explaining them in ways easily understood and practiced by Westerners. She is well known for her warm, humorous, and lucid teachings. She was ordained as a Buddhist nun in 1977 by Kyabje Ling Rinpoche in Dharamsala, India, and in 1986 she received bhikshuni (full) ordination in Taiwan. Read her full bio.
More on this topic