A man and a squirrel
An inmate makes a connection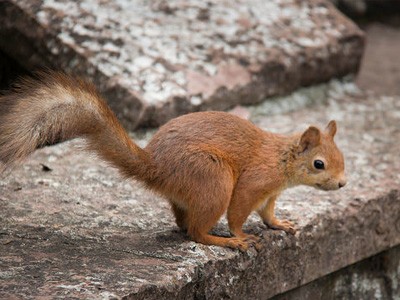 On Wednesday I ran into someone whom I knew from another prison. He was a member of the Native American group there and had provided us with his beadwork for our art auctions every November. He was surprised at seeing me there and asked what I was doing. I told him I was the Buddhist chaplain now and he looked up and said "Thank you." Then he said "Oh no, I just put in for a transfer and I have to go change that. I'll see you later."
Friday afternoon he came to my office and told me he had planned to come in the morning but he had some problems. You see he feeds a squirrel and when his cell window is open, the squirrel comes in to visit him. If it's cold and he has his window shut, the squirrel will go down the line until he finds someone else's window open. He'll go into the prison through that window and will go looking for this man.
That morning was cool so the squirrel couldn't get into his cell and found another window open. The man was leaving to come see me when the corrections officer yelled at him to go get his squirrel because it was down in someone else's cell. And that was why he didn't make it to see me in the morning and had to wait until the afternoon.
When I think about it, this is one of the great things about human nature—that we really want to connect with others. Sometimes our beliefs or perceptions separate us, but the bottom line is that we want to be connected to other beings, to animals, nature, the world. This man is connected to a squirrel and the squirrel is apparently connected to him. What a beautiful thing!
Reverend Kalen McAllister
Rev. Kalen McAllister was ordained by Rev. Shoken Winecoff in 2007 at Ryumonji Monastery near Decorah, Iowa. She is a long-time practitioner of Zen, and was active in the operation of the Missouri Zen Center for many years. In March, 2009, she received an award from the Women's Buddhist Council in Chicago for her work with prisoners in several eastern Missouri prisons. In 2004, she co-founded Inside Dharma, an organization dedicated to assisting prisoners in practical matters, as well as supporting their practice of meditation and Buddhism. Rev. Kalen received Dharma transmission in March, 2012, from her teacher, Shoken Winecoff, at Ryumonji Zen Monastery. In April, she traveled to Japan to be formally recognized (Zuise) at the two major temples, Eiheiji and Sojiji, in ceremonies where her robe was officially exchanged to brown and she was recognized as a Dharma teacher. (Source: Shinzo Zen Meditation Center)
More on this topic