Bringing compassion to prison
Bringing compassion to prison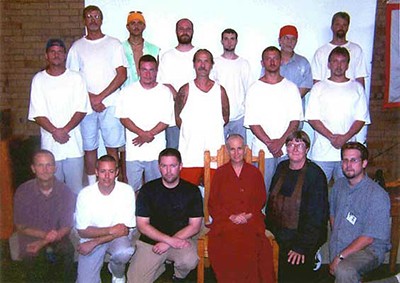 Community volunteers discuss compassion-based approaches to help people in prison change and grow.
The Dalai Lama's message of tolerance, personal responsibility, and charity has provided a unifying commonality for a group of folks in Spokane who have formed an organization called Friends of Compassion. The central question arose: "How can institutions, not just persons, act compassionately?" The group is committed to implementing the Dalai Lama's message by working with people in faith, education, government, social services and business to see how compassion can be incorporated into the very framework of our institutional structures. Many organizations are now pursuing community advancement, and all express ideals of compassion in their own language. Friends of Compassion seeks to harness this positive energy for common good, in the pursuit of civic goals and local needs.
Believing in the ability to change
A wonderful example of this commitment happened recently at a monthly meeting of Friends of Compassion. The topic was "Compassion for the Rule Breakers: The System called 'Corrections.'" Four presentations were given by different people working with incarcerated men. Rosanne and Richard, a couple who together had 60 years of experience working for the Department of Corrections, said that if people are able to get their lives together and become responsible citizens after being imprisoned, it is despite the corrections system, not because of it. In their experience, only 25% of the people who worked in corrections liked their job and really connected to others. The other 75% were just "following the manual." Part of the 25% that enjoyed working in corrections, they explained the important perspectives they cultivated through those years that brought them great love and commitment to their work. Among them were:
They believed in people's ability to grow and change.
They held a long-term view regarding each person they worked with, knowing that many of them may be imprisoned again and that it is time to help them make better choices.
They were committed to managing and working with their own judgments, filters, and stereotypes.
To develop trust with the men it was crucial to keep your word, to do what you said you would do and not do what you said you would not do.
Venerable Thubten Chodron then shared her experience on corresponding with and visiting incarcerated men for nearly 14 years. She agreed with many folks who work or volunteer at prisons that the corrections system is spiritually bankrupt. Nevertheless, it is very moving to hear those incarcerated express hope and enthusiasm, knowing that they too can cultivate compassion and love in their minds even within such a harsh environment. It is very clear after reading about their childhoods that most of them grew up in circumstances that naturally led to their being in prison, and while citizens are happy to pay more taxes to build more prisons, they do not want to pay more taxes so that children have better education and more after-school activities. People do not see the link between these two. She ended by sharing that many of the men are gifted in art, poetry and writing and she hopes to publish a book on their works. She believes that it is very important that the society that wants to punish them sees their humanity.
Compassion-based therapy
Professor Russell Kolts from Eastern Washington State University shared with the group the Compassion-Based Therapy that he facilitates with the incarcerated men at Airway Heights Correctional Center. This therapy model incorporates a workbook where the men keep track of situations when negative emotions, particularly anger, arise. The book helps them to identify trigger situations and enables them to make choices other than responding with anger. The men then gather in groups to share with each other while Russell guides them through the process. What began as a very small group at Airway Heights now has a waiting list of 60 for the next series of Compassion-Based Therapy.
To conclude the evening, Craig, a former felon, incarcerated three years for a white collar crime, shared his experience of the prison system from within. He described the whole process from start to release as being humiliating and painful. Craig worked on being kind to everyone he met and depended on his faith for strength throughout his time in prison. He vowed to himself that he would never let himself wander into a situation or life experience like this again.
It was very inspiring to listen to testimonials of how compassion can bring connection between incarcerated men and the people who support and help them manage and grow in such a difficult life situation.
Venerable Thubten Semkye
Ven. Semkye was the Abbey's first lay resident, coming to help Venerable Chodron with the gardens and land management in the spring of 2004. She became the Abbey's third nun in 2007 and received bhikshuni ordination in Taiwan in 2010. She met Venerable Chodron at the Dharma Friendship Foundation in Seattle in 1996. She took refuge in 1999. When the land was acquired for the Abbey in 2003, Ven. Semye coordinated volunteers for the initial move-in and early remodeling. A founder of Friends of Sravasti Abbey, she accepted the position of chairperson to provide the Four Requisites for the monastic community. Realizing that was a difficult task to do from 350 miles away, she moved to the Abbey in spring of 2004. Although she didn't originally see ordination in her future, after the 2006 Chenrezig retreat when she spent half of her meditation time reflecting on death and impermanence, Ven. Semkye realized that ordaining would be the wisest, most compassionate use of her life. View pictures of her ordination. Ven. Semkye draws on her extensive experience in landscaping and horticulture to manage the Abbey's forests and gardens. She oversees "Offering Volunteer Service Weekends" during which volunteers help with construction, gardening, and forest stewardship.
More on this topic