Quiz: Shantideva's establishments of mindfulness
Quiz: Shantideva's establishments of mindfulness
Quiz: Shantideva's establishments of mindfulness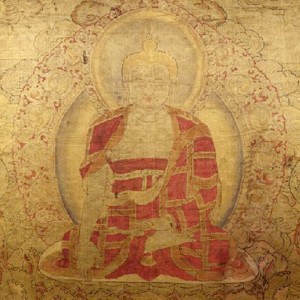 Part of a series of teachings on Shantideva's explanation of the four establishments of mindfulness in Chapter 9 of Engaging in the Bodhisattva's Deeds. These teachings followed directly after extensive teachings on A Presentation of the Establishment of Mindfulness, a text by Gyalwa Chokyi Gyaltsen.
What does Shantideva's explanation of the four establishments of mindfulness emphasize that is not emphasized by the previous explanation? Why is this important?

Describe how Shantideva refutes the inherent existence of the body.

Why would something that exists inherently be permanent? What are the ramifications of an inherently existent object being permanent?

Does Shantideva's question, "Then what is a male and what is a female?" change your ideas of sex and gender? How?

What is similar in imputing "body" to the parts of the body and imputing "person" to a mannequin? What is the difference between these two cases?

What are the agent, object, and action regarding feelings? How are they dependent on each other?

Give three reasons why pleasure and pain aren't real.

What is the ignorance that is the root of cyclic existence? Why is it important to eradicate it? How does wisdom cut this root?

What is the argument refuting partless particles in terms of the sense powers and their objects?

In terms of true existence, why can't a consciousness perceive an object that occurred before it? At the same time as it? After it? How does a consciousness perceive an object conventionally?
Venerable Thubten Chodron
Venerable Chodron emphasizes the practical application of Buddha's teachings in our daily lives and is especially skilled at explaining them in ways easily understood and practiced by Westerners. She is well known for her warm, humorous, and lucid teachings. She was ordained as a Buddhist nun in 1977 by Kyabje Ling Rinpoche in Dharamsala, India, and in 1986 she received bhikshuni (full) ordination in Taiwan. Read her full bio.
More on this topic