Dedication from "Engaging in the Deeds of Bodhisattvas"
Dedication from "Engaging in the Deeds of Bodhisattvas"
Dedication from "Engaging in the Deeds of Bodhisattvas"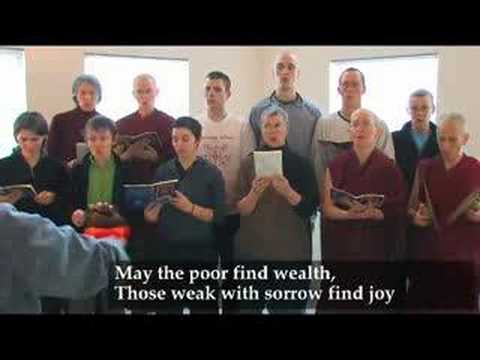 May all beings everywhere
Plagued by sufferings of body and mind
Obtain an ocean of happiness and joy
By virtue of my merits.

May no living creature suffer,
Commit evil or ever fall ill.
May no one be afraid or belittled,
With a mind weighed down by depression.

May the visually impaired see forms,
And the hearing impaired hear sounds.
May those whose bodies are worn with toil
Be restored on finding repose.

May the naked find clothing,
The hungry find food.
May the thirsty find water
And other delicious drinks.

May the poor find wealth,
Those weak with sorrow find joy.
May the forlorn find hope,
Constant happiness and prosperity.

May all who are ill and injured
Quickly be freed from their ailments.
Whatever diseases there are in the world,
May these never occur again.

May the frightened cease to be afraid
And those bound be freed.
May the powerless find power
And may people think of benefiting each other.

For as long as space endures
And as long as living beings remain,
Until then may I too abide
To dispel the misery of the world.
View a video of the Sravasti Abbey Monastic Choir singing this dedication to the tune of The Star Spangled Banner.
Venerable Thubten Chodron
Venerable Chodron emphasizes the practical application of Buddha's teachings in our daily lives and is especially skilled at explaining them in ways easily understood and practiced by Westerners. She is well known for her warm, humorous, and lucid teachings. She was ordained as a Buddhist nun in 1977 by Kyabje Ling Rinpoche in Dharamsala, India, and in 1986 she received bhikshuni (full) ordination in Taiwan. Read her full bio.
More on this topic