Joys of taking the bodhisattva vows
Joys of taking the bodhisattva vows
Joys of taking the bodhisattva vows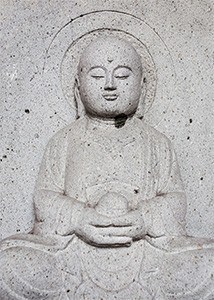 My practice would not be where it is without the kindness and generosity of my teachers. Venerable Thubten Chodron helped me to prepare to take the bodhisattva vows, and then I took them before Venerable Robina Courtin when she visited Potosi in 2005. James, a friend and fellow practitioner, renewed his bodhisattva vows at the same time. Taking the vows was a very intense experience, and I believe that came from focusing my intention on it.
There were a few people at the ceremony, including Chaplain Pollard (the prison chaplain; I was glad he came), Sr. Elaine (the Catholic nun who leads the regular meditation group at the prison), and Lyn (a yoga teacher who regularly leads yoga classes at the prison), and a couple of friends who were interested. We were able to set up the chapel before Venerable Robina arrived, and that meant we could set up an altar. I hope this marks the beginning of something we can do before the visits of other Dharma teachers in the future. Plus we were able to make offerings, which would not have been possible if not for the extraordinary kindness of Lyn and some of the members of the local Buddhist community, who helped to arrange this. Making offerings is something else I hope we are able to continue to do in the future. It really helps the mind when we are able to prepare the room and the altar and to make offerings before a Dharma activity. Having some time to arrange these things was very helpful. It took us weeks, if not months, to do this.
We wanted to videotape Venerable Robina's visit, but the administration wouldn't allow it, so we set up an old tape recorder, but nobody remembered to turn it on! However, we were able to have some photographs taken.
I feel very fortunate to have had a couple of years to practice and study the bodhisattva vows before taking them. During that time, I not only committed them to memory, but also practiced living according to them and devoting my every action to benefiting other living beings.
I know the easy part is taking the vows and now is the time for work, but I have already seen some indications of progress. For example, the other day my cellie walked in when I was meditating. Before, this would have frustrated me no end, but on that particular day, I could only smile.
In addition to stepping up my practice in a couple of different ways, I have committed the practice of the 35 Confession Buddhas to memory and have begun studying Tibetan in earnest, not to the neglect of my practice, but as a supplement to it. I'm also getting better about little things, because it is the little things that not only make the practice but gradually become perfections, like generosity, patience, and joyous effort, I practice being mindful of why I took these vows in the first place—to benefit all sentient beings. Since that is the case, I should not feel trapped by these vows but should use them to enrich life for everyone's benefit. Cultivating certain thoughts has already started making a difference. For example, I think, "I will always work for the benefit of all sentient beings." Sometimes I'll say this out loud again and again, as if I'm reciting a mantra. I've also make a regular practice of the four immeasurables—equanimity, love, compassion, and joy—reciting them as I wipe down the floor of my cell before doing prostrations. I also contemplate the 37 Practices of Bodhisattvas which I find quite helpful in terms of what I am capable of doing now and what I aspire to be capable of doing in the future.
Prior to the ceremony of taking the bodhisattva vows, Venerable Robina led us in prostrating to the 35 Buddhas. I managed to keep up fairly well without experiencing discomfort or lack of stability in my shoulder (which was injured several years back). So I've begun making full-length prostrations a regular part of my practice too. I plan to make taking the eight precepts on full and new moon days a regular part of my practice too. So I'm feeling very good about what I'm doing now in terms of my formal Dharma practice.
Venerable Thubten Chodron
Venerable Chodron emphasizes the practical application of Buddha's teachings in our daily lives and is especially skilled at explaining them in ways easily understood and practiced by Westerners. She is well known for her warm, humorous, and lucid teachings. She was ordained as a Buddhist nun in 1977 by Kyabje Ling Rinpoche in Dharamsala, India, and in 1986 she received bhikshuni (full) ordination in Taiwan. Read her full bio.
More on this topic