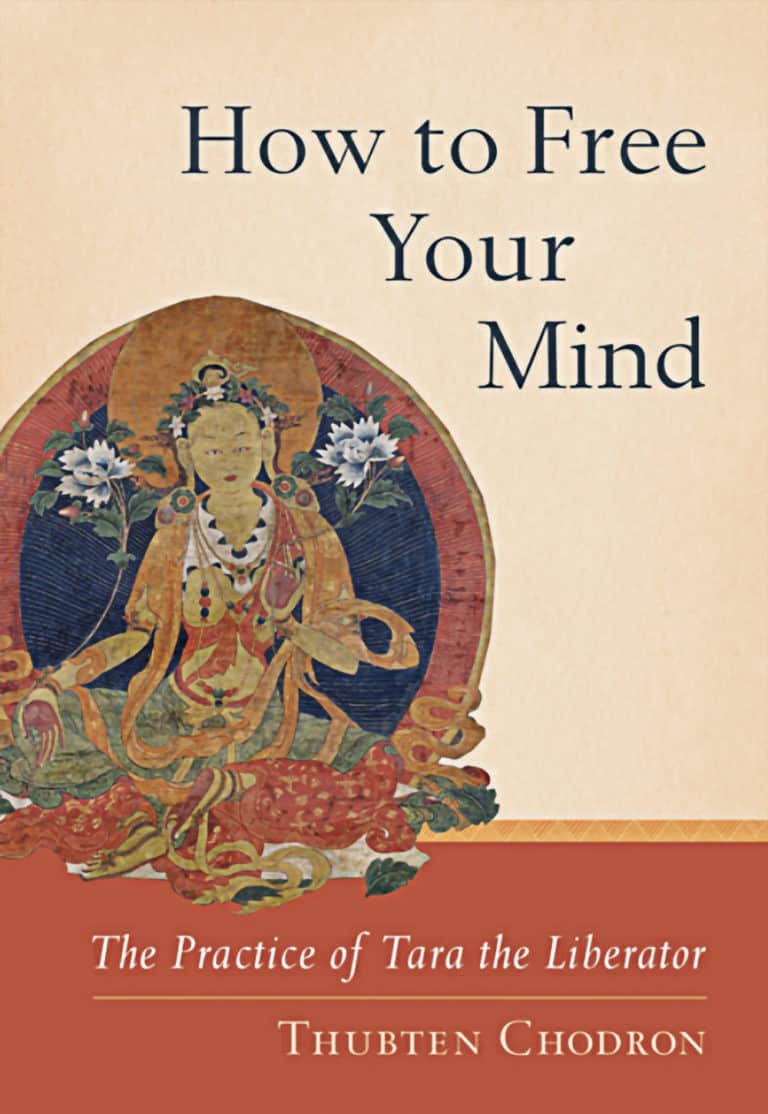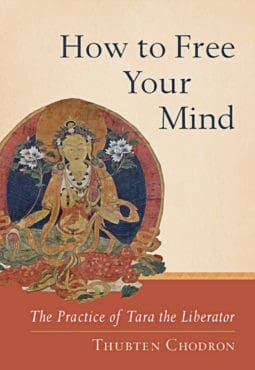 How to Free Your Mind
The Practice of Tara the Liberator
If you are curious about Buddhist deities, in particular female Buddhas, if you want to learn about freeing your mind from disturbing emotions and the nature of reality, this book will be of interest and benefit to you.
Order from
About the book
Tara, the feminine embodiment of enlightened activity, is a Buddhist deity whose Tibetan name means "liberator," signaling her ability to free beings from the delusion and ignorance that keep them trapped in recurring patterns of negativity.
She embodies a challenge, but one that is profoundly nurturing: to transform our minds and become like her, reflecting the tranquility, compassion, and wisdom that make her so beautiful.
Venerable Thubten Chodron describes a simple meditation on Tara, explaining its benefits and its application to daily life. She also presents two well-loved praises, Homage to the Twenty-one Taras and A Song of Longing for Tara, the Infallible, together with reflections on their meanings for modern practitioners.
The story behind the book
Venerable Thubten Chodron reads an excerpt
Venerable Chodron reads "A Song of Longing for Tara the Infallible"
Related materials
Excerpt: "As close as a mother to her children"
My Guru Serkong Tsenshab Rinpoche, who was also a guru of His Holiness the Dalai Lama, said that praying to Tara makes it easy to be reborn in the pure land of Avalokiteshvara, the Buddha of Compassion, and receive guidance from him. This is because Tara is close to sentient beings in the way that a mother is close to her children. Read more …
Translations
Also available in Bahasa Indonesia, German, Italian, and Vietnamese
Reviews
Post your review on Amazon
With her usual clarity, Bhikshuni Thubten Chodron skillfully weaves the practice and theory of Arya Tara together with the lamrim path to provide a fascinating and very helpful guide for those interested in the Tara practice.
Venerable Thubten Chodron has the extraordinary ability to present even the most profound spiritual teachings simply and directly in ways that impact our everyday lives. With her characteristic warmth, humor, and intelligence, she invites us here to enter the world of Tara, one of the most beloved members of the Buddhist pantheon, and to share in the wisdom and compassion of the Divine Mother.
Readers will find a wealth of insight into the process of freeing the mind here; the Tibetan approach to bringing forth the resolve for awakening (bodhicitta) is appealing and accessible. Thubten Chodron, with this volume, continues her giving of Dharma and walking the Bodhisattva path by example.