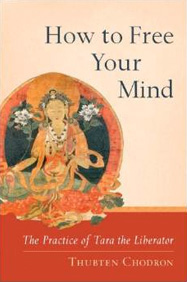 Tara, the feminine embodiment of enlightened activity, is a Buddhist deity whose Tibetan name means "liberator," signaling her ability to free beings from the delusion and ignorance that keep them trapped in recurring patterns of negativity.
She embodies a challenge, but one that is profoundly nurturing: to transform our minds and become like her, reflecting the tranquility, compassion, and wisdom that make her so beautiful.
Venerable Thubten Chodron describes a simple meditation on Tara, explaining its benefits and its application to daily life. She also presents two well-loved praises, Homage to the Twenty-one Taras and A Song of Longing for Tara, the Infallible, together with reflections on their meanings for modern practitioners.
The story behind the book
How to Free Your Mind Introduction 07-09-13
Venerable Thubten Chodron reads an excerpt
How to Free Your Mind Reading 07-09-13
Venerable Chodron reads "A Song of Longing for Tara the Infallible"
Related materials
Preface by Lama Zopa Rinpoche
My Guru Serkong Tsenshab Rinpoche, who was also a guru of His Holiness the Dalai Lama, said that praying to Tara makes it easy to be reborn in the pure land of Avalokiteshvara, the Buddha of Compassion, and receive guidance from him. This is because Tara is close to sentient beings in the way that a mother is close to her children. Read more …
Read an excerpt
Our drawers, closets, attics, and basements are stuffed to the gills. If we're lucky, we'll clean them out before Christmas to make room for new Christmas presents. How reluctant we can be to give things away! One time, I gave students at Dharma Friendship Foundation (DFF) the homework assignment to give things away. First, they had to do something simple, such as clean out a closet and give away unwanted things. The next week, they had to give away something they liked. This homework assignment wound up lasting for several weeks because the first week, many people didn't do it. They needed to be reminded and given another chance. By the following week some people had moved the unwanted things as far as the front door or the trunk of their car. They still hadn't actually given them to others. Read more …
Ever since Lama Thubten Yeshe first introduced me to the meditation practice of Green Tara in 1975, I was attracted to this Buddha. Although all Buddhas have the same realizations, Tara's appearance was very friendly and welcoming. While my mind would sometimes project its self-created authority issues on other Buddhas, admitting my imperfections to Tara didn't bother me. Fortunately, I gradually came to feel this way about other enlightened ones, too. Lama Yeshe later explained that most Tibetan Buddhists feel close to Tara; in fact, to indicate his own affection, he called her "Mummy Tara." Read more …
Translations
Also available in Bahasa Indonesia, German, Italian, and Vietnamese.
Reviews
Post your review on Amazon
Rated one of the best spiritual books of 2005
—Read review by Spirituality and Practice
With her usual clarity, Bhikshuni Thubten Chodron skillfully weaves the practice and theory of Arya Tara together with the lamrim path to provide a fascinating and very helpful guide for those interested in the Tara practice.
—Jetsunma Tenzin Palmo
Venerable Thubten Chodron has the extraordinary ability to present even the most profound spiritual teachings simply and directly in ways that impact our everyday lives. With her characteristic warmth, humor, and intelligence, she invites us here to enter the world of Tara, one of the most beloved members of the Buddhist pantheon, and to share in the wisdom and compassion of the Divine Mother.
—Jonathan Landaw, author of "Images of Enlightenment"

"Images of Enlightenment"
Readers will find a wealth of insight into the process of freeing the mind here; the Tibetan approach to bringing forth the resolve for awakening (bodhicitta) is appealing and accessible. Thubten Chodron, with this volume, continues her giving of Dharma and walking the Bodhisattva path by example.
—Rev. Heng Sure