So much wisdom!
The 2014 Western Buddhist Monastic Gathering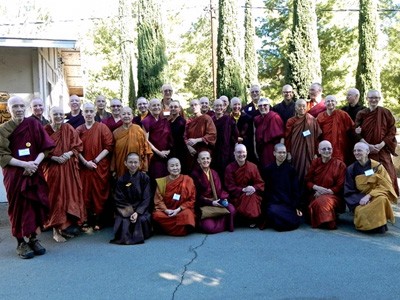 Sravasti Abbey monastics eagerly look forward to the annual Western Buddhist Monastic Gathering. Venerable Chodron is among the founding members, and she rarely misses a gathering. Abbey monastics are also encouraged to attend. We learn much from meeting monastics of different traditions, many of whom live in circumstances different from ours.
In 2014, Venerables Semkye, Yeshe, and I joined Venerable Chodron for the 20th annual gathering, held at Deer Park Monastery, a beautiful site perched among golden hills outside of Escondido, California. We met with more than 30 others—monastics of the Thai and Sri Lankan Theravada traditions, Vietnamese Chan, Japanese Zen, and various lineages of Tibetan Buddhist traditions—for four days of conversation, exploration, practice, and fellowship
Deer Park Monastery
Deer Park Monastery, founded by Vietnamese Chan master Thich Nhat Han, is home to about 25 resident nuns and monks. They were a wonderful host community. Ranging in age from 20s to 80s, the Deer Park monastics exude joy and peace, obvious fruits of their mindfulness practice. These qualities pervade their daily activities and even seem to permeate the land around them.
While only a handful of the community actively took part in the gathering, their whole-hearted service in preparing meals, providing technical support, leading meditations, and opening their buildings—and their hearts too—to their monastic guests inspired us.
Venerable Yeshe noted, "I am very touched by the way the community of Deer Park practices kindness and compassion. Thich Nhat Hanh's communities emphasize equality. Brothers and sisters are treated the same way, and the care is palpable. The atmosphere at Deer Park is serene, as are all the members of the community."
2014 program
Gatherings are usually organized around a series of "councils," which may include teachings or panels, and always invite interaction. There is also plenty of sharing time over meals and in the breaks. This year, spontaneous breakout sessions occurred in the evenings as well.
The first council began with a distinguished panel, including our venerable abbess, Venerable Chodron, who spoke about translating and writing Dharma books. The personal stories were quite moving as translator Venerable Bhikkhu Bodhi, author Venerable Thubten Chodron, and scholar Ayya Tathaaloka told how they "fell into" their work of translating the Dharma for the West. In each case, they began in response to the needs of others, and what a gift they gave to us by doing so! Panel moderator Venerable Lozang Trinlae, a scholar and translator herself, frequently lauded the trail-blazing contributions of these Dharma elders.
In the afternoon, Venerable Bhikkhu Bodhi again took the front seat to give a talk on "Religious vs. Secular Buddhism," contrasting what he calls "traditional Buddha-Dharma" with "neo-modernist Dharma." He pointed out that essential Buddhist topics like karma and rebirth—sometimes difficult for Western students to accept—may be left out of the psychologized version of Buddhism that is often taught today. While you might think that Buddhist monastics lean more to the traditional "religious" end of the spectrum, Bhikkhu Bodhi suggests that most Western people are somewhere on a spectrum—not all one or the other. The monastics present seemed to agree. He left us to ponder thoughts on "what to keep, what to discard, and what to transform" from the traditional Buddhist presentations we have inherited from Asia.
Wednesday morning began with a panel exploring relations with lay people and lay Dharma groups. This is sometimes tricky terrain as monastics are mindful to keep our precepts while staying open and receptive to the needs and concerns of lay Dharma practitioners. Presenters shared their experiences, and the overall conclusion—to my ears, at least—is that the mutual relationship of support among Buddhist lay and monastic practitioners still flourishes in this new Dharma land, although with a distinctly Western cultural flavor.
The afternoon panel looked at monastic ordination, responding to the questions, "Who is ordaining? How has training evolved? Who gives validation to ordination?" Venerable Chodron and Ayya Tathaaloka, abbess of Dhammadharini Vihara, again sat on the panel, joined by Brother Phap Hai from Deer Park and Rev. Master Amdo from Shasta Abbey. These monastic elders represent communities that are actively ordaining and training Western sangha. The issues of ordination procedure and monastic training have many complications and fine points, especially for us in the West. The commitment to and challenges of remaining true to the Buddha's guidelines and still keep the tradition alive for the 21st Century is delicate. From these presentations, it is being handled with grace, respect, and care.
Thursday was a full day! From early morning to early afternoon, the group joined in a Walk to Feed the Hungry organized by Buddhist Global Relief, founded by Venerable Bhikkhu Bodhi. Monastics in our variously colored robes walked solemnly and peacefully alongside lay people through the streets of Escondido, promoting an end to global hunger. Some people question if it's appropriate for monastics to engage in social activism, but this group eagerly embraced the chance to practice compassion by drawing attention to a critical issue.
Tired but fulfilled, the group met again in the afternoon for a panel on teaching Dharma in the West. Theravada nun Ayya Suddhamma gave a particularly lively demonstration of how she gives Dharma talks in her hometown of Charlotte, NC; she incorporates a touch of old time Southern preaching in her presentation! Other monastics shared too, including Rev. Jishu Perry from Shasta Abbey. He rivals Venerable Bhikkhu Bodhi for the most senior monastic seat, each having been ordained for forty-two years.
On Thursday night, monastics of various ordination lineages congregated to do posadha, the rite of confession, purification, and restoration of precepts that we do every half-month. Wherever four or more fully ordained monastics of a particular ordination lineage are gathered, they must perform this rite together, so a group of Theravada bhikkhunis met in one building, while nuns practicing in the Tibetan tradition met in another.
Abbey monastics, with much support from Taiwanese sangha, have been diligently translating the rites of our Dharmaguptaka ordination lineage into English, and the Abbey community has adapted some of our English-language chants to the traditional melodies. We were delighted to share these with the other fully ordained sangha and novices, many of whom live far from monastic communities and have few opportunities to do posadha.
As for the men—although no group had enough members to perform a formal posadha ceremony together, monks of all the different traditions met together and enjoyed their fellowship.
In the break time
Valuable as the formal council sessions are, there's much richness in the break times too. The tea room invited casual sharing, and many impromptu conversations—private talks and large group discussions—blossomed between councils and in the evenings.
A small evening breakout session on "death in the community" was, for me, the most meaningful session of all. Three of our monastic friends had died since the previous gathering, and the quiet sharing about their final moments, the struggles and treasures of supporting the dying person, and the death's impact on the respective communities gave me much to ponder. The time will come for Sravasti Abbey too—we just don't know when.
I also loved practicing in the early morning with the Deer Park community and a majority of the monastic guests. Men on one side of the giant meditation hall, women on the other, we listened for the clear tones of the morning gong, chanted the beautiful invocation to Shakyamuni Buddha together, made three bows, and sat in the darkened silence, each meditating in the various ways we've been trained to do.
The end and the beginning
The gathering ended with the usual Friday morning session to thank everybody, evaluate, and make plans for next year. The Abbey community has long waited for the readiness to host the annual gathering and now, with Chenrezig Hall, it's time. We'll host the 2015 gathering October 19 to 23.
While Buddhism is often cited as the "fastest growing religion in the U.S.," few practitioners have the internal and external circumstances that propel them into the renunciant life of a Buddhist monastic. Thus, these annual gatherings give nuns and monks an opportunity to share with and learn from others with similar values and lifestyles, providing mutual support on the spiritual path. The joyful smiles and appreciation of the attendees indicate that it's a chance we all relish. As Venerable Yeshe said, "I like to see the different traditions gathering together and sharing what is alive for them. There is so much wisdom!"
Venerable Thubten Chonyi
Ven. Thubten Chonyi is a nun in the Tibetan Buddhist tradition. She has studied with Sravasti Abbey founder and abbess Ven. Thubten Chodron since 1996. She lives and trains at the Abbey, where she received novice ordination in 2008. She took full ordination at Fo Guang Shan in Taiwan in 2011. Ven. Chonyi regularly teaches Buddhism and meditation at the Unitarian Universalist Church of Spokane and, occasionally, in other locations as well.
More on this topic