Benefits of the retreat from afar
Benefits of the retreat from afar
Benefits of the retreat from afar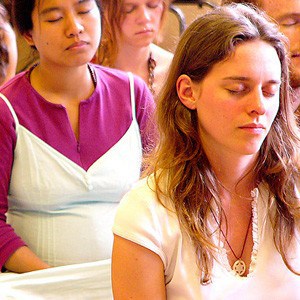 We were 16 people doing the retreat, many of us for the first time. Additionally, other people attended our weekly retreat-from-afar sessions, although they didn't commit to a daily practice.
From the first session we had a very good response. Some beginners attended too and started doing the practice even though it is a long and not very simple practice. We established Vajrasattva as our regular weekly group practice. Everybody practiced at home the rest of the week.
Everybody showed enthusiasm and commitment, first to learn the mantra and then to recite the whole mala each day. During those first sessions, the senior students in our group gave brief explanations of the meaning of the purification practices and of Vajrasattva in particular. This was useful for everyone—not just the newcomers—because we clarified points that even experienced meditators didn't understand very well.
Throughout the three months of retreat we had an enthusiastic average attendance of 15-17 people. During these sessions, each person expressed the difficulties he experienced or the obstacles she faced in the practice. The rest of the group gave advice or shared ideas that had helped them overcome these same problems or similar ones.
For instance, Claudia said that she found too many things to purify within herself, so she didn't know where to begin. The advice was to choose the afflictions she considered the most prominent and focus on them. She also expressed that some days she found it very difficult to do her practice because she felt tired. Silvia advised her to be compassionate towards herself and, perhaps, only do half a mala on those days rather than skip the practice.
Many people noted that Vajrasattva is a very powerful practice that brought purification results to their lives. Thus, various problems and difficulties arose for some of us.
For example, one woman is going through a difficult situation because her mother has been very ill for two years now and she recently took responsibility for the mother's care. Another person's son has a problem with alcohol abuse and his condition has provoked a family break. Someone else's mother and father have been going through serious illness, and another woman is experiencing many emotional changes due to menopause. Yet another had kept a shameful "secret" for many years, but, along with therapy sessions, was finally able to let it go. And so forth.
Thus the Vajrasattva sessions provided a helpful tool for us to support each other with our dedications and mutual care.
By the end of the retreat, some of the people who were doing it for the first time expressed their wish to continue. That was the case of Eunice, who told us that the retreat's daily practice commitment helped her establish the habit of daily meditation.
In brief, the Vajrasattva retreat from afar was a strong element of cohesion for the group, as well as a deep spiritual experience for each of us individually. It has given us the opportunity to keep on practicing and purifying.
We would like to thank Sravasti Abbey, and especially Venerable Thubten Chodron, for organizing this retreat from afar, and we dedicate all the positive potential we may have accumulated by doing it to the long life of Sravasti Abbey and all the community members.
We also dedicate our positive potential to the following people:
Josefina Gutiérrez, Delia Manrique, José Roberto, Elisa, Santiago Ortega, Alejandro Barrera and family, and Jesús Gutiérrez Coss, who died recently at 21 years old.
Guest Author: Diana
More on this topic