Thirty-seven Practices of Bodhisattvas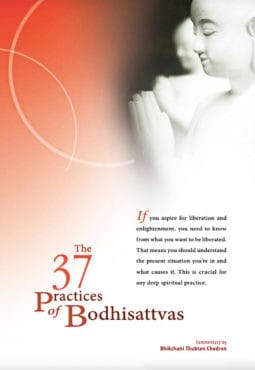 Thirty-seven Practices of Bodhisattvas
Venerable Chodron provides commentary on "The Thirty-seven Practices of Bodhisattvas," a poem by Tibetan master Gyelsay Togmay Zangpo.
Order from
Download
© Kong Meng San Phor Kark See Monastery. Strictly for free distribution and not to be sold. Published by Kong Meng San Phor Kark See Monastery, Singapore.
About the book
A Buddha is someone who has completely eliminated all defilements from the mind and developed all good qualities limitlessly. Buddhas are sources of all well-being and happiness because they teach us the Dharma and by practicing that, we will eliminate all misery and create the causes for all happiness and peace.
To accomplish the final goal of the teachings, we have to know what to practice, and thus this book will explain the practice of bodhisattvas. By doing these bodhisattva practices, we will become bodhisattvas, advance on the bodhisattva path, and eventually become fully enlightened buddhas.
Also available in Bahasa Indonesia