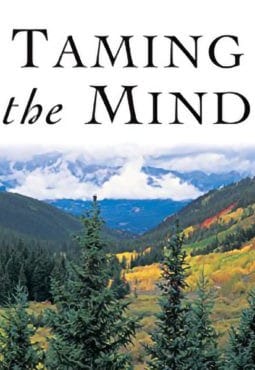 Taming the Mind
A book showing us how to find peace and contentment through the application of the teachings of the compassionate Buddha. Practical guidance for everyday life challenges as well as helpful explanations of Buddhist philosophy, psychology, and its rich traditions.
Order from
About the book
We all wish to gain greater understanding of ourselves and to have good relationships with others.
This ideal follow-up to Buddhism For Beginners explains the essence of Buddhist philosophy and psychology in down-to-earth language, and offers tools for immediate application in our daily life.
By understanding how our mind, not the external world, is the ultimate source of our happiness, we learn to look at people and situations in a new light, practice freeing ourselves from habitually blaming others for our problems, and take responsibility for our lives.
This book helps to overcome such misconceptions, showing how to find peace and contentment through a practical application of the teachings ings of the compassionate Buddha. Ven. Thubten Chodron has chosen a wide variety of situations that we encounter in daily life and has explained how to deal with them from a Buddhist viewpoint, in words that are easy to understand. In doing so, she has made a valuable contribution to peace and human understanding by providing her readers with the opportunity not only to understand a variety of approaches to Buddhist practice, but also to benefit from such practices in their own lives.
The story behind the book
Venerable Chodron reads an excerpt
Related talks
Media coverage
"Antidotes to the habit of complaining," an excerpt featured in Spirituality and Practice
Translations
Also available in Chinese, Dutch, German, Vietnamese, and Russian (Taming the Monkey Mind)
Reviews
Post your review on Amazon.
Venerable Thubten Chodron is someone whose life embodies the virtues of kindness, simplicity, and a clarity of vision, which lie at the heart of the Buddha's teaching. It is these perennial qualities that shine through her writings and touch the hearts of readers all over the world.
A highly useful manual to start one's journey on the path of Dharma.
Thubten Chodron explains in clear, down-to-earth language the essence of Buddhist philosophy and psychology, giving us practical tools to implement immediately in our daily lives. The 'How to Have Good Relationships with Others' section grew from requests made by young Westerners being taught meditation by this exemplary teacher … A must-have book you can give to your family members or friends who haven't a clue about Buddhism.
Chodron, an American-born Tibetan Buddhist nun, here offers her second introduction to Buddhism for Western audiences, but unlike Buddhism for Beginners, this book has a practical bent showing readers how to carry out the practices of Buddhism in daily life. Sections include fine and concise overviews of the history of Buddhist traditions and an overview of Buddhism today. Best of all perhaps for the curious reader is a section called 'Taming Bad Habits,' which contains advice on how not to complain, speak of the faults of others, live in the past, or take part in any of the world's other transitory pleasures. Highly recommended.
Offers useful advice… using simple language in Western concepts … This book will delight the author's many admirers.