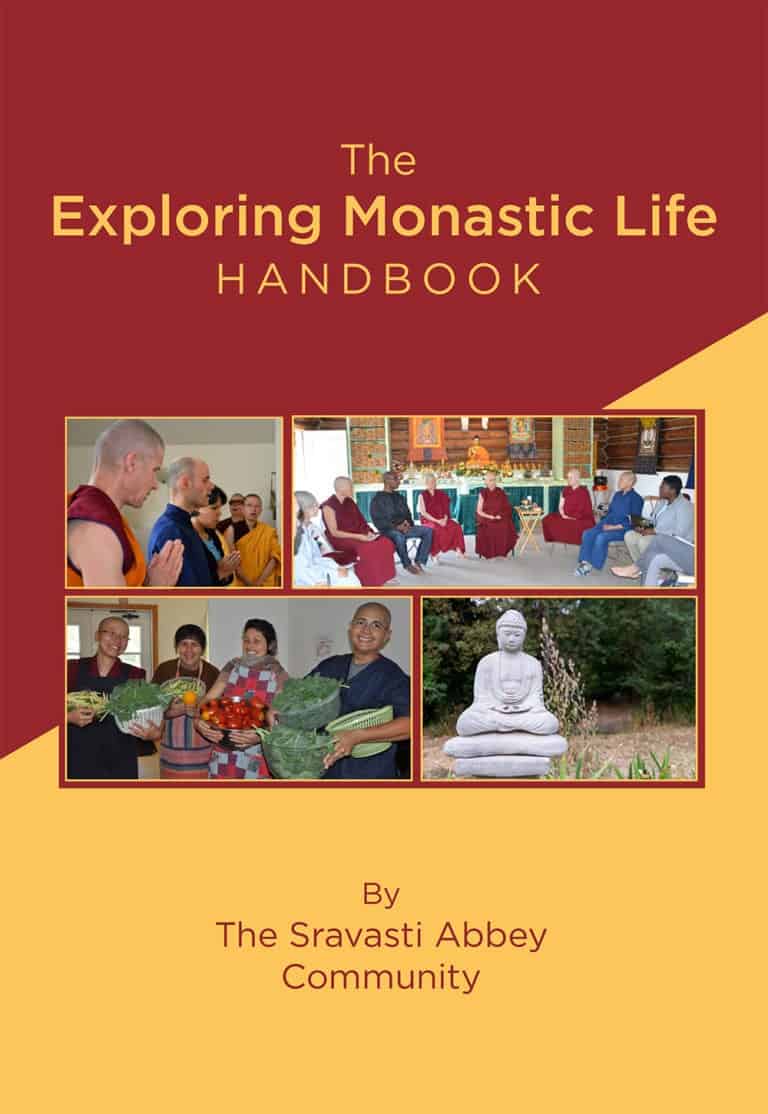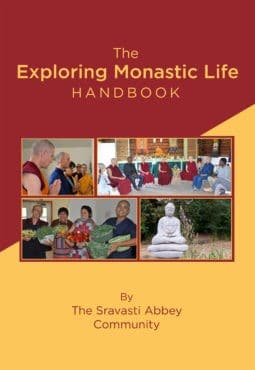 Exploring Monastic Life Handbook
A collection of articles compiled by the Sravasti Abbey community to provide guidance for those interested in exploring their spiritual aspirations more deeply.
Download
About the book
Published by Sravasti Abbey. For free distribution (see below for additional use information).
The Sravasti Abbey Community created this booklet to provide guidance for those interested in exploring their spiritual aspirations more deeply. It speaks directly to attendees of the Abbey's annual Exploring Monastic Life (EML) Program, however, anyone who aspires to become a monastic, newly ordained monastics, and laypersons with an interest in understanding more about monastic life will also find this material illuminating and inspiring.
People come for the Exploring Monastic Life program at varying stages in their contemplation about whether a monastic life is for them. While at the Abbey, EML attendees receive a wealth of teachings from Venerable Thubten Chodron and also learn through their interactions with monastics and other course participants. There's a lot to absorb and digest! This book serves as a support to those activities that can be read and reflected on before, during, and after the program, coming back to what resonates again and again. Ordination is not a matter to rush into, nor is there one "right" conclusion to come to. We each need to practice in a way that works for us in this life.
The process of exploring the meaning and purpose of monastic life, and how one wishes to pursue spiritual practice right now, is invaluable. It helps us get to know ourselves better and provides us with the tools to progressively cultivate our potential to attain full awakening for the benefit of all beings. May this handbook be a source of inspiration for all.
History of Sravasti Abbey
Getting Started…

You're Becoming a What?
A Monastic's Mind
What Do You Give Up When You Ordain?

Choosing to Live in Precepts

The Purpose of Precepts
The Six Harmonies
Our Relationship to Money

Choosing to Live in Community

What is a Monastery?
Points for Reflection on Living in Community

What Changes When You Ordain?

Dispelling Myths about Monastic Lifestyle
What Changes When You Become a Monastic

What Next?

Making the Decision
A Letter to a Friend Considering Ordination

Ceremonies to Request Training
More Resources
---
Copyright © 2019 by Sravasti Abbey. For free distribution. All rights reserved. For personal, noncommercial use only. This book may be printed or downloaded electronically, in whole or in part, for personal use by individuals or Buddhist groups. Permission is required to publish and distribute this book on any information storage and retrieval system, such as, but not limited to, a blog or website. To request permission to use this book in ways that are not expressly granted here, please contact publications(at)sravastiabbey(dot)org.