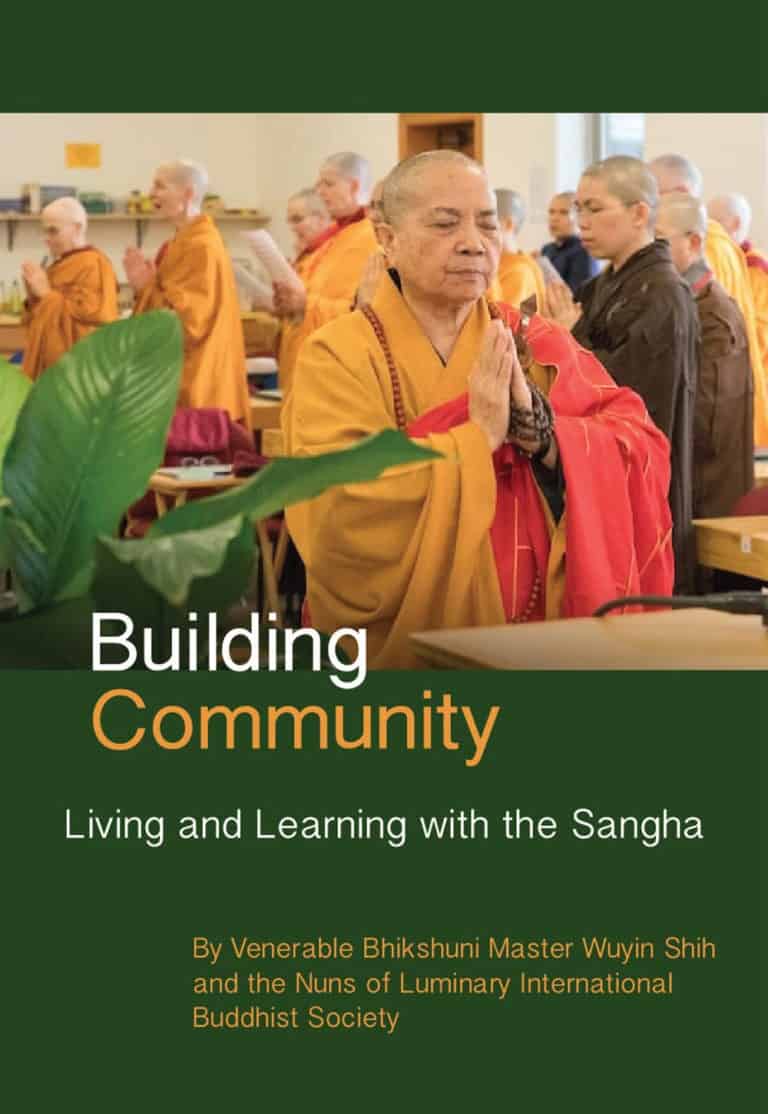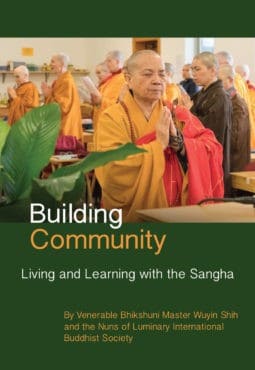 Building Community
Living and Learning with the Sangha
Practical and contemporary perspectives from an abbess and her students on the joys and challenges of building, sustaining, and thriving in religious community.
Order from
About the book
A collection of discourses by Venerable Master Wuyin and essays by her students. Published by Sravasti Abbey.
With the spread of Buddhism worldwide, Buddhist communities have become established in new lands and continue to adapt to changing circumstances. Building Community offers practical perspectives on the Buddha's guidelines on community life in relation to contemporary cultural situations, beginning with fifty discourses by Venerable Bhikshuni Master Wuyin Shih that draw on decades of her experience leading a Buddhist community in Taiwan.
The second half of the book shifts to more intimate, personal reflections on Buddhist community life with essays by Venerable Master Wuyin's students on their relationship with their spiritual mentor and monastic training. Together, these essays bring to life the joys and challenges of building, sustaining, and thriving in religious community and celebrate the collective endeavor of practicing the path to full awakening.
Ordained monastics may obtain a complimentary copy by emailing publications[at]sravastiabbey[dot]org.
Through her life and teachings, Master Wuyin shows us how a modern woman, with roots in Buddhist tradition and a keen, open, and active mind, can create a solid bridge connecting Buddhism to the modern world.
Overview of contents and a reading from Master Wuyin's section
Venerable Chodron reads an excerpt from the students' section
About Venerable Bhikshuni Master Wuyin Shih
Venerable Master Wuyin entered the Buddhist monastic community in 1957 and received full ordination as a bhikshuni in 1959. She is the current abbess of Luminary International Buddhist Society and oversees study programs for nuns and laypeople, as well as translation and publishing projects. She is the president of the Luminary Buddhist Institute that she founded in 1980, publisher and editor-in-chief of Luminary Magazine, and the abbess of Xiang Guang Shan Temple.
Venerable Master Wuyin has dedicated her life to improving the status of bhikshunis, especially through providing well-rounded training and education for women monastics. She has closely analyzed the Vinaya both theoretically and experientially, and has taught the bhikshuni precepts in Taiwan, Hong Kong, Malaysia, Myanmar, India, and the USA. Her teachings have provided inspiration and support for Buddhist nuns from different traditions around the world to establish the bhikshuni sangha and enable the Dharma to continue to flourish in the modern world.
About the Nuns of Luminary International Buddhist Society
Since its formal establishment in 1985, the Luminary International Buddhist Society has grown steadily and now comprises about a hundred nuns. Its main monastery is Xiang Guang Temple in Chiayi, Taiwan, with seven other branch temples spread across Taiwan and one branch temple in Seattle, USA. The organization also includes the Luminary Buddhist Institute and library that focus on monastic education, and magazine and book publication houses that spread Buddhist teachings and culture.
The nuns of Luminary International Buddhist Society come from all levels of society and share a common aspiration—to build a model center for the education of women monastics. They seek to become well-qualified religious practitioners who can disseminate Buddhist education based on correct knowledge and views, so that the general public will understand the Buddha's teachings based on reasoned faith, improve their daily lives through practicing the Dharma, and illuminate their own and others' lives.