Mindfulness of the divine body and correct view
Mindfulness of the divine body and correct view
Mindfulness of the divine body and correct view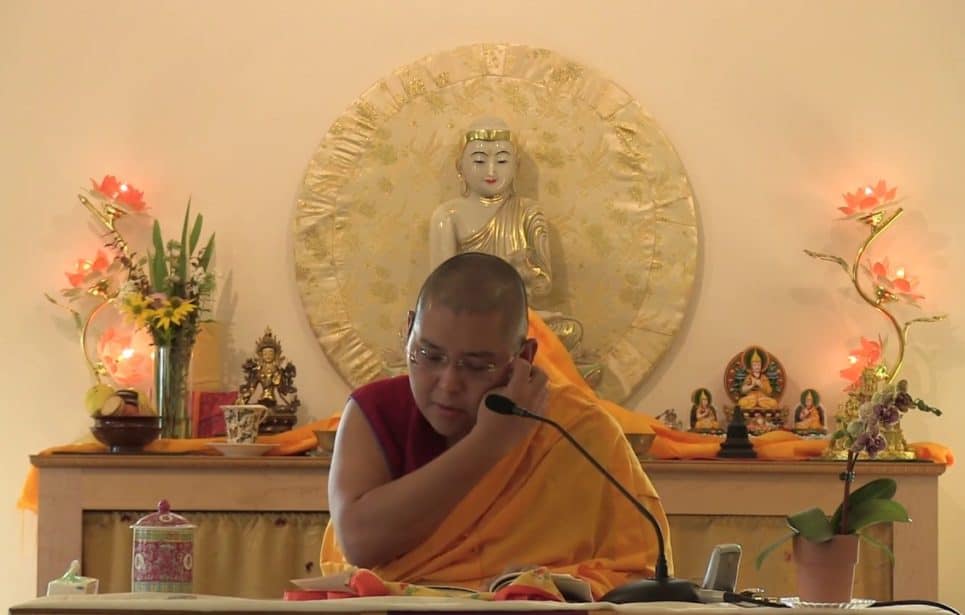 Mindfulness of compassion (continued)

The suffering of samsara
Three types of compassion

Mindfulness of yourself as the Divine Body

Transforming our impute body, speech and mind
The death process

Mindfulness of the view of emptiness

Space-like meditative equipoise
Illusory-like post meditation

The job of a monastic
The first part of this commentary can be found here.
Kyabje Ling Rinpoche
Kyabje Ling Rinpoche's predecessor, H. E. the 6th Kyabje Yongzin Ling Rinpoche, was the Senior Tutor for His Holiness the 14th Dalai Lama. He was also the preceptor for Ven. Thubten Chodron's novice ordination in 1977. "Thubten" is his lineage name, which most of Sravasti Abbey's monastics also carry. H.E. the 7th Ling Rinpoche was born in India in 1985 and recognized as the reincarnation of H.H. the Dalai Lama's Senior Tutor at 18 months old. He was enthroned in 1987 and received his novice ordination from His Holiness in 1993. He also received full monk or bhikshu ordination from His Holiness exactly 50 years after the Dalai Lama had received them from his Senior Tutor, Rinpoche's predecessor. The 7th Ling Rinpoche entered Drepung Monastic University's Loseling College at the age of five, commenced monastic studies at age 10, and completed his geshe degree in 2016. Rinpoche has taught throughout Asia, Europe, North America, and Israel. He has also been involved in many important Buddhist events, including requesting His Holiness the Dalai Lama's historic series of Jangchup Lamrim teachings in South India and participating in Mind and Life Institute dialogues between His Holiness and scientists.