The Foundation of Buddhist Practice
The Foundation of Buddhist Practice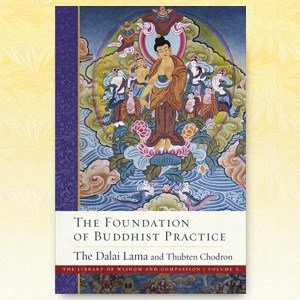 The latest publication of the Dalai Lama's series of teachings on the entire Buddhist path, The Library of Wisdom and Compassion is now available.
Check out the listing on our book page: The Foundation of Buddhist Practice.
Written in clear, conversational language, The Foundation of Buddhist Practice lays out the steps to building a flourishing Buddhist practice. It includes meditative reflections to help readers apply the Buddha's wisdom to their own lives.
What is The Library of Wisdom and Compassion series about?
His Holiness is one of the world's leading authorities on Buddhism, well-known for advocating ethical conduct, non-violence, and compassion in personal and global actions. The Library of Wisdom and Compassion is a special multi-volume series in which the Dalai Lama shares the complete path of Buddha's teachings on wisdom and compassion.
Venerable Thubten Chodron, co-author of the series, has worked for many years to compile and edit His Holiness' wisdom drawn from many different teachings. "Traditional presentations of the path in Tibetan Buddhism assume the audience already has an understanding and faith in Buddhist concepts such as rebirth and karma," she said. "His Holiness realized early on that a different approach was needed for his non-Tibetan students." The series is designed to offer His Holiness' insights and experiences over a lifetime of practice.
"His Holiness is so practical in his teachings," Venerable Chodron continued. "He respects Western education and understands that Western audiences will respond to Buddhism's emphasis on analysis and reasoning." With this approach in mind, The Library of Wisdom and Compassion provides a framework for the modern reader to explore the rich Buddhist tradition.
The Foundation of Buddhist Practice begins by explaining what makes a philosophy Buddhist or non-Buddhist. It then teaches how to tell whether our knowledge and perception is reliable, so that we have the tools to understand the nature of reality. The book includes in-depth discussions of the relationship between spiritual mentor and student, the complex topics of dying and rebirth, and gives a fruitful explanation of karma and its results.
B. Alan Wallace, president of the Santa Barbara Institute for Consciousness Studies and author of The Attention Revolution among many others, noted, "In The Library of Wisdom and Compassion series, His Holiness the Dalai Lama, with the capable assistance of Bhikshuni Thubten Chodron, illuminates a path of awakening that is deeply integrative and utterly relevant to all the challenges that face humanity in the twenty-first century. Presented here is an authentic path to freedom from suffering and its inner causes and to tapping into the full potential of consciousness—our own Buddha-nature. There can be no greater gift than this."
The Foundation of Buddhist Practice is published by Boston-based Wisdom Publications and distributed worldwide. Ask for it in your local bookstore or order online at Wisdom Publications, Amazon, and other outlets.
Venerable Thubten Chodron
Venerable Chodron emphasizes the practical application of Buddha's teachings in our daily lives and is especially skilled at explaining them in ways easily understood and practiced by Westerners. She is well known for her warm, humorous, and lucid teachings. She was ordained as a Buddhist nun in 1977 by Kyabje Ling Rinpoche in Dharamsala, India, and in 1986 she received bhikshuni (full) ordination in Taiwan. Read her full bio.