Congratulations to the first geshemas!
Congratulations to the first geshemas!
Congratulations to the first geshemas!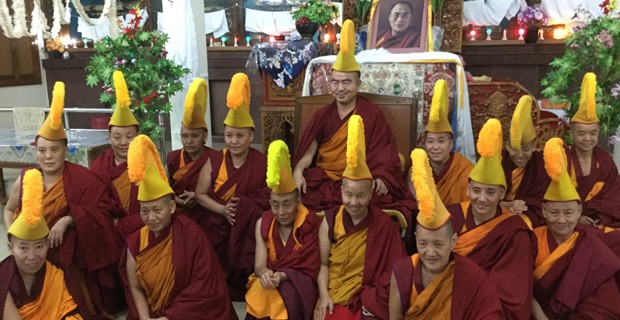 Tibetan Buddhist nuns have made history. They have completed their courses of study and received their Geshema degrees, the equivalent to a Doctorate in Buddhist philosophy. Exam results were announced by the Department of Religion and Culture of the Central Tibetan Administration.
"The Geshema examination process is an extremely rigorous one that takes four years in total, with one round per year each May. During the 12-day exam period, the nuns must take both oral (debate) and written exams. They are examined on the entirety of their 17-year course of study of the Five Great Canonical Texts." —TNP.org
His Holiness the Dalai Lama will present the degrees to the nuns in December at Drepung Monastery in Mundgod, South India, in conjunction with the celebration of the monastery's 600th anniversary.
Wearing the yellow dongka (vest) and the yellows hats is a great honor—it indicates the nuns are now Geshemas. They are the first Tibetan nuns to wear these. The Geshemas in the photo are from Jangchub Choeling Nunnery in Mundgod, one amongst a number of nunneries that fielded candidates for the Geshema examination.
Learn more about the first Geshemas at TibetanNunsProject.org.
Venerable Thubten Chodron
Venerable Chodron emphasizes the practical application of Buddha's teachings in our daily lives and is especially skilled at explaining them in ways easily understood and practiced by Westerners. She is well known for her warm, humorous, and lucid teachings. She was ordained as a Buddhist nun in 1977 by Kyabje Ling Rinpoche in Dharamsala, India, and in 1986 she received bhikshuni (full) ordination in Taiwan. Read her full bio.
More on this topic