Labor Day Weekend Retreat: Perfection of Generosity
September 3-6, 2021 September 3 @ 7:00 pm - September 6 @ 12:00 pm PDT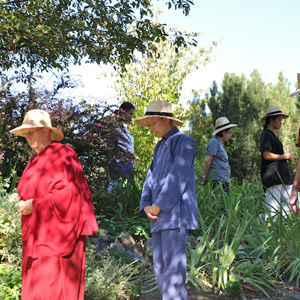 Labor Day Weekend Retreat: Perfection of Generosity
A 3-day retreat with Venerable Thubten Chodron
Friday, September 3, 7:00 pm -
Monday, September 6, 12:00 pm PDT
Join on Vimeo Livestream and Zoom or in person.
A maximum of 20 guests may attend this retreat in person. Details and registration below.
The six perfections—also translated as the six far-reaching practices or the six paramitas in Sanskrit — describe the methods that bodhisattvas transform their minds into the mind of a buddha, a fully awakened one. These six practices are generosity, ethical conduct, fortitude or patience, joyous effort, concentration, and wisdom.
In this long weekend retreat, Ven. Thubten Chodron helps us begin to adopt these practices right now, beginning with the perfection of generosity. Through teachings and meditations, we learn how the mind of generosity enriches our lives now as we learn to cherish others, and helps us steadily progress towards becoming great bodhisattvas and then buddhas.
If you will join remotely, complete the registration form for the online event.
To attend in person, you must be fully vaccinated and register in advance here. Scan and send proof of your full vaccination to the office when you send in the registration form to the Abbey Office - office [dot] sravasti [at] gmail [dot] com