Donning the robes
Donning the robes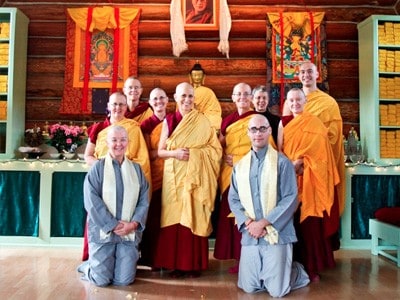 Lisa Perry spent six months at Sravasti Abbey in 2010-11, beginning with our Exploring the Monastic Life program and concluding with one month of winter retreat, before returning to Australia to ordain. Below she tells the story of this journey and gives us a view of her new life as Venerable Pema.
Given that I wanted to be a nun in primary school, inspired by my grade four teacher Sister Margaret, it took me a long time to actually make the decision to ordain. Born and raised in Australia, I took a meandering path to Buddhism through books by His Holiness the Dalai Lama, a meditation course with Lama Choedak in Canberra, and public teachings from Jetsunma Tenzin Palmo and Venerable Robina Courtin. As a journalist, I was quickly snapped up for editing and transcribing after these talks, and was allowed heady access to their teachings and wisdom.
While attending the 2007 "Happiness and Its Causes Conference" in Sydney, I, along with 3000 others, was brought to tears by the mere presence of His Holiness, and later that day managed to banish waves of utter terror to muster up the courage to walk up to him and say hello. When it later dawned on me that I had in fact introduced myself to a monk with a startling resemblance to His Holiness, my joy was not in the least deflated!
But it was not until I left my public service job for a role in a Buddhist hospice that I began serious study. Spending most weekends doing courses at Chenrezig Institute on Queensland's Sunshine Coast, I was soon offered the honor of becoming their Spiritual Program Coordinator, and for the next nine months I lived at the center, arranging teachings and center events. One of the visiting teachers I was blessed to work with was Venerable Chodron, who was making her first visit to Australia. I had heard much about her from one of my own teachers, Venerable Tenzin Tsepal, who had studied with Venerable Chodron for many years and had spent time at the Abbey.
Those few days were to change my life. I was able to be with Venerable for much of her time in Australia, providing driving duties and facilitating logistics for her weekend course. It was during a drive to the airport that she mentioned Sravasti Abbey's Exploring Monastic Life course and urged me to attend. Of course I had a million reasons why I couldn't go—job pressures, money pressures and fear—but, less than 48 hours later, my mother was offering to buy my plane ticket and I was filling out an application form. In the end, I resigned my role at Chenrezig to spend six months at the Abbey.
The Exploring Monastic Life course opened my eyes to the realities of monastic life, and I was inspired from the day I arrived by the strength and devotion of the Abbey community. Along with students from Germany, Belarus, Italy and the US, I opened my heart to the possibility of monastic life and faced what was to become a long list of fears and attachments. Hearing from my fellow students that many of their fears and hopes were similar to mine was heartening, and the support I received from them will never be forgotten. Friendships were quickly formed as we talked and prayed, debated and offered service.
I stayed on after the course and took anagarika precepts—an eight-precept ordination that includes celibacy—and spent the next few months in training, both physical and mental. Watching my mind during that time was like being on a roller coaster. One day I was high on a cloud, rejoicing at the good karma that had brought me to Sravasti Abbey; the next I was in tears as the strongest of my attachments manifested yet again! But each and every day I felt the support and love of the community, especially Venerable Chodron, whose smile and gentle words would often be enough to quell my anxiety. In those months I learned a lot about monastic life, my own strengths as well as my attachments, and clarified my intention to ordain.
I returned to Australia and took ordination on March 14, 2011, with Kuzho Lama Geshe Tashi Tsering. Although I had spent nine months alongside the nuns of the Chenrezig community and almost six months at Sravasti Abbey, anything I thought I knew about how a monastic lived soon dissolved. Taking monastic precepts has simplified things in terms of abandoning the householder life that so entangled my thinking, but any hopes that they would clear away all doubt and fear were naïve. Still, there grows within me a deep contentment as I watch my practice deepen and my knowledge increase.
The past three months have been an amazing lesson in impermanence, karma, and the joys of providing selfless service. I have begun a five-year Buddhist Studies Program, moved into the community of supportive nuns and one monk at Chenrezig Institute, donned the robes I have admired for so long and begun the long and slow journey to transforming my mind. I had the wonderful opportunity to spend two weeks in retreat with Kyabje Lama Zopa Rinpoche only days before he manifested having a stroke, and we are currently a little over a week away from hosting His Holiness the Dalai Lama at Chenrezig Institute. The Buddha teaches us to see all things as like a dream. Even in my wildest dreams I could not have come up with a more exciting, challenging, and inspiring few years.
Guest Author: Venerable Pema
More on this topic