Reviews of "Cultivating a Compassionate Heart"
Reviews of "Cultivating a Compassionate Heart"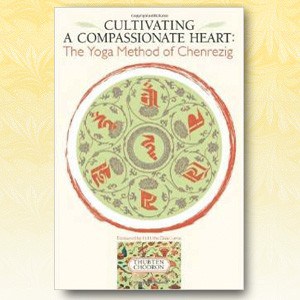 Rated one of the Best Spiritual Books of 2006
—Read review by Spirituality and Practice
"With her usual clarity and humor, Venerable Thubten Chodron delivers a first-rate exposition of the theory and practice of Action Tantra, basing herself on the sadhana of the 1,000-armed Chenrezig. Her clear and helpful explanation are certainly of great benefit for all of us on the Vajrayana path."
—Jetsunma Tenzin Palmo,author of Reflections on a Mountain Lake
"In her latest Dharma offering, Thubten Chodron draws on a wealth of oral teachings and years of practice as she insightfully applies the profound methods of Vajrayana to everyday life. She skillfully shows how we can break through our ordinary perceptions of ourselves, other beings, and our environment, through the cultivation of 'pure appearances' and other tantric practices, in ways that open the heart to empathy and compassion. This is a book to be cherished."
—B. Alan Wallace, author of Minding Closely: The Four Applications of Mindfulness.
"Venerable Thubten Chodron is someone whose life embodies the virtues of kindness, simplicity, and a clarity of vision which lie at the heart of the Buddha's teaching. It is these perennial qualities that shine through her writings and touch the hearts of readers all over the world."
—Thupten Jinpa, translator for H.H. the Dalai Lama
"For serious practitioners who wish to engage in Chenrezig meditation, this book is an invaluable resource. By providing a sadhana recitation text with full instructions clearly explained, particularly on how to incorporate the understanding of voidness into the practice of tantra, Venerable Thubten Chodron has made this precious meditation available to all who would seek an authentic tradition."
—Alexander Berzin, The Berzin Archives
"Another engaging offering from the kind, clear heart and mind of Thubten Chodron. … You want to develop compassion and wisdom? Here's how."
—Mandala Magazine
"Once again Venerable Thubten Chodron does what she has done so brilliantly before. She takes a lofty spiritual ideal—in this case, the cultivation of universal compassion—and presents it in a clear, accessible manner that the reader finds both eminently practical and sublimely inspiring."
—Jonathan Landaw, author of Images of Enlightenment
"This engaging book on the traditional 'Meditation on the Thousand-Arm Chenrezig' is less a guide to practice than a full explication of it for a contemporary audience."
—Library Journal
"Another in her series of eminently practical and sublimely inspiring teachings … The rituals and visualizations are brought directly into our everyday lives … As she says, 'We don't just go poof! and become a Buddha.' But her insight and humor, her skillful way of translating the profound into mundane reality, has the potential to open our hearts and minds to more compassion."
—Turning Wheel
Post your review on Amazon
Venerable Thubten Chodron
Venerable Chodron emphasizes the practical application of Buddha's teachings in our daily lives and is especially skilled at explaining them in ways easily understood and practiced by Westerners. She is well known for her warm, humorous, and lucid teachings. She was ordained as a Buddhist nun in 1977 by Kyabje Ling Rinpoche in Dharamsala, India, and in 1986 she received bhikshuni (full) ordination in Taiwan. Read her full bio.
More on this topic