Vesak Celebration & Nyung Ne Retreat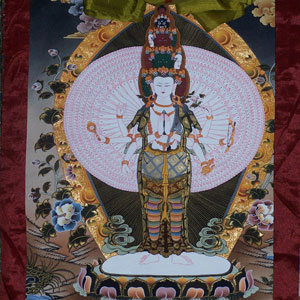 Vesak Day commemorates the Buddha's birth, enlightenment, and parinirvana. The Nyung Ne practice is a wonderful way to purify negativities and deepen refuge, especially through meditating on Chenrezig, Buddha of Compassion.
The retreat includes taking the eight Mahayana precepts, making many prostrations, and one day of refraining from all food, drink and talking aside from reciting prayers and mantra. Nyung Ne brings powerful purification and generates vast amounts of merit.
Applicants should have some familiarity with Chenrezig practice and be in good health, especially being free of hypo- or hyper-glycemic concerns, including diabetes.
Read the detailed retreat guidelines & preparation to determine if this retreat is for you.
All programs are offered on a donation basis. A dana offering and registration form are requested to reserve your place for the retreat.
Arrive by 3 p.m. on Friday. Retreat ends at lunch on Monday.
For more information, read the detailed description, or email office [dot] sravasti [at] gmail [dot] com, or call 509-447-5549.