Vajrapani Institute: Awakening Joy Retreat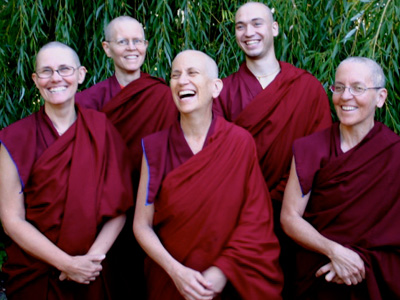 Awakening Joy: Keeping Enthusiasm on the Spiritual Path
What is it?
We are willing to exert energy to accumulate wealth, build a successful career and chase the perfect partner, but when it comes to engaging in virtue, we drag our feet. In a culture that sometimes associates effort with drudgery it can therefore be difficult to stay on a spiritual path. We can become disheartened when we do not get immediate results or when our spiritual practice starts to feel like "work". There is another way. In this retreat participants will explore teachings from Shantideva's book "The Bodhisattva's Way of Life," on joyful effort and how to apply this to all of life's situations, in particular how awaken to our greatest potential by applying joyful effort in our spiritual pursuits.
What is Joyful Effort?
The far-reaching attitude of joyous effort can give our Dharma practice a powerful boost, and help us to overcome our procrastination, discouragement and plain-old laziness! The perfection of effort is the virtuous state of mind that experiences joy whenever regarding oneself as having taken a step along the path to Buddhahood. Obviously, if we find an activity causes us to experience joy, we are much more likely to repeat this activity than if it does not. In order to develop the perfection of effort we use Lojong meditation to train our minds to think about what we are doing from the Bodhisattva point of view.
About The Bodhisattva's Way of Life
Often recommended by His Holiness the Dalai Lama as the quintessential book on developing a good heart, "The Guide to The Bodhisattva's Way of Life," by Shantideva outlines in ten chapters the 6 perfections of the awakening mind in poetic prose. Highly inspirational and often quoted by Buddhist Scholors and teachers, it is considered one of the greatest Buddhist texts of all time.
Retreat Structure
This 3 day retreat will bring in a combination of teachings, discussion, Q and A, and meditation in order to allow participants to delve into this topic, questioning the blocks that keep oneself from living up to their own greatest potential and moving past these.