Sharing the Dharma Day & Kathina Ceremony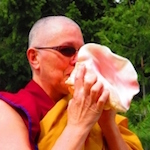 Join us for an especially festive sharing of the Dharma, as we interweave our Sharing the Dharma Day program with our third annual kathina ceremony.
Schedule
9:45 Gather
10:00 Meditation
11:00 Dharma talk
12:00 Vegetarian potluck
1:30 Line up for procession
2:00 Procession to the Meditation Hall, Kathina ceremony, Dharma talk with Venerable Thubten Chodron
The kathina (pronounced ka-tee-na) is widely celebrated in the Buddhist countries of Southeast Asia. Dating to the Buddha's time, it's traditionally an occasion for making offerings to replenish sangha supplies after the long retreat. The Abbey's American version includes a procession, gift exchange, Dharma talk, and a vegetarian potluck.
RSVP appreciated, but not necessary. Email office [dot] sravasti [at] gmail [dot] com or call 509-447-5549.