Hamburg: Aufbruch der Frauen im Buddhismus: Ist das Eis schon gebrochen?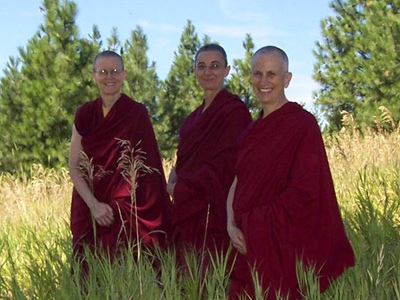 Seit vielen Jahren fördert S.H. der Dalai Lama weltweit Frauen und ermutigt sie, auch Führungspositionen zu übernehmen und als spirituelle Lehrerinnen tätig zu werden. 2007 fand in Hamburg der 1. Internationale Kongress buddhistischer Frauen statt. Wissenschaftlerinnen und buddhistische Gelehrte aus allen buddhistischen Traditionen untersuchten u.a. die Frage, welche Bedeutung Buddha den Frauen beigemessen hat und wie sie diese im Laufe der Jahrhunderte fortgesetzt und weiterentwickelt haben.
Dr. Thea Mohr diskutiert mit Ven. Thubten Chodron, Sylvia Wetzel, Dr. Carola Roloff und Geshe Kelsang Wangmo (Kerstin Brummenbaum), die als erste Nonne im tibetischen Buddhismus den Geshe-Titel erhielt.
Welchen Idealen folgen diese Frauen, mit welchen Schwierigkeiten sahen und sehen sie sich auf ihrem Weg der Gleichberechtigung konfrontiert? Worin bestehen die gegenwärtigen Probleme, und was haben diese Vorreiterinnen am Status quo verändert und damit anderen Frauen den Weg bereitet, einen Zugang zu Buddhas Lehre zu finden? Was sind ihre Visionen für die Zukunft? In welche Richtung sollte die Entwicklung voranschreiten?
Die Veranstaltungssprache ist Deutsch.
The talk will be held in German.