Green Tara retreat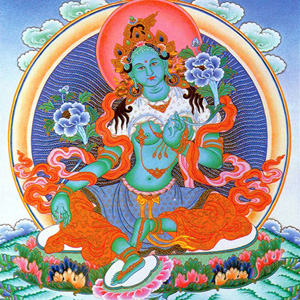 The Abbey's annual one-week retreat offers a chance to deepen your practice in supportive community. Join us this year for meditation on Green Tara, embodiment of the enlightening influence of all the Buddhas.
For centuries practitioners have turned to Tara—a feminine embodiment of enlightenment—for protection from both internal and external dangers, ranging from fire to anger and ignorance. The main purpose for practicing Tara meditation is to free us from all sufferings and their causes and bring us to liberation and awakening.
The retreat will include teachings with Venerable Chodron as well as several daily practice sessions. We will hold noble silence.
While this retreat is suitable for newcomers as well as experienced practitioners, some meditation experience is helpful. If you're unfamiliar with the practice, it's good to study Venerable Chodron's book, How to Free Your Mind: Tara the Liberator.
A dana offering and registration form are requested to reserve your place for the retreat.
Arrive by 3:00 on Friday. Retreat begins with a live-streamed Lamrim teaching that begins promptly at 5:55. Retreat ends after 2:00 the following Friday.
For more information, write the office or call 509-447-5549.