Exploring Monastic Life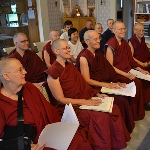 Venerable Thubten Chodron teaches from nearly 40 years of experience as a monastic. In addition to receiving daily teachings, you will live and practice as a member of the Sravasti Abbey community—engaging in meditation, discussion, and offering service with the community.
This retreat is for qualified lay people exploring the possibility of ordination, and for monks and nuns that have been ordained for five years or less. Applicants must have taken refuge in the Three Jewels at least one year ago and must not be in a long-term relationship. Priority will be given to applicants under 50 years old.
Read the detailed program description.
All programs are offered on a donation basis. A dana offering and registration form are requested to reserve your place for the retreat.
Arrive by 5 p.m. on Monday, August 1st. Program ends after lunch on Thursday, August 18th.
For more information, read the detailed description, or email office [dot] sravasti [at] gmail [dot] com, or call 509-447-5549.