Exploring Buddhism for Young Adults (18-29)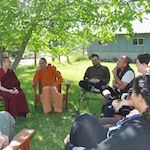 Sravasti Abbey invites young adults aged 18 to 29 to explore the Buddha's teachings within our American culture. No meditation experience is necessary; just an open and curious mind/heart.
The course includes meditation instructions and practice, teachings, Dharma discussions, and working outdoors in beautiful gardens, meadows, and woodlands in northeastern Washington.
All programs are offered on a donation basis. A dana offering and registration form are requested to reserve your place for the retreat.
Arrive by 5 p.m. on Monday. Program ends after lunch the following Monday.
For more information, email office [dot] sravasti [at] gmail [dot] com, or call 509-447-5549.