Annual Winter Retreat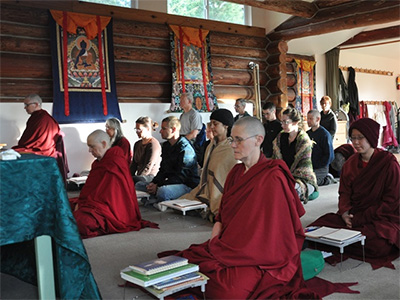 Sravasti Abbey spends each winter in silent retreat, and qualified guests are welcome to join us. Retreat dates vary, but generally extend from December to March. A one-month option is usually available as well.
Beginning January 2015, we will offer two concurrent options:
Solitary Hero Yamantaka Retreat or Manjushri Retreat
1-month Retreat: January 13 - February 9
3-month Retreat: January 13 - April 13
Manjushri is the Buddha of Wisdom, while Yamantaka is his wrathful aspect. Highest Yoga Tantra initiation into the Yamantaka practice is required to qualify for the Yamantaka Retreat.
Preparation and other details will be posted soon.
Admission is by application. Read a letter from Venerable Thubten Chodron to help you consider attending the retreat.
Benefits of Doing Retreat
Doing long retreat is extremely beneficial for really getting a taste of the Dharma. It gives the opportunity to reflect on the steps of the gradual path and to deepen our relationship with the Three Jewels.
The Abbey offers an excellent retreat environment that includes a peaceful setting, a disciplined retreat structure, qualified spiritual guidance, and a supportive practice community. The environment is set up so that all activities can be done mindfully and with a Dharma perspective.
It's a wonderful opportunity, and if you can use your precious human life to do a retreat like this, you and all sentient beings will benefit enormously.
Meditation Retreat
A retreat is different from a course. In a course, the teacher teaches the Dharma and guides the meditation sessions. In a retreat, the students do the meditation themselves, and the teacher is generally not present in the sessions.
The annual Winter Retreat is a group retreat wherein all students are focused on the same practice and meditate together in the Meditation Hall for at least five sessions every day. Venerable Thubten Chodron will offer teachings from time to time and is available for spiritual guidance as needed.